Caring, Compassionate Educators
You know that your calling to teach means more than just getting your diploma. It means valuing each student's life and helping them fulfill their God-given potential.
It's the role of ​​Teacher as Servant Leader — and it's why Belhaven University is the perfect place to earn your degree.
Our curriculum emphasizes academic excellence, professional knowledge, character development, and leadership opportunities. You'll also gain real-world experience through practica directed observations, practice teaching in elementary schools, and a culminating in a clinical internship.
Elementary Education Major
You've had life-changing experiences in the classroom that challenged you to succeed and inspired your passions. Now it's your turn to share that calling as a K-6 educator, a mentor, and a champion that will have a major impact on students' lives.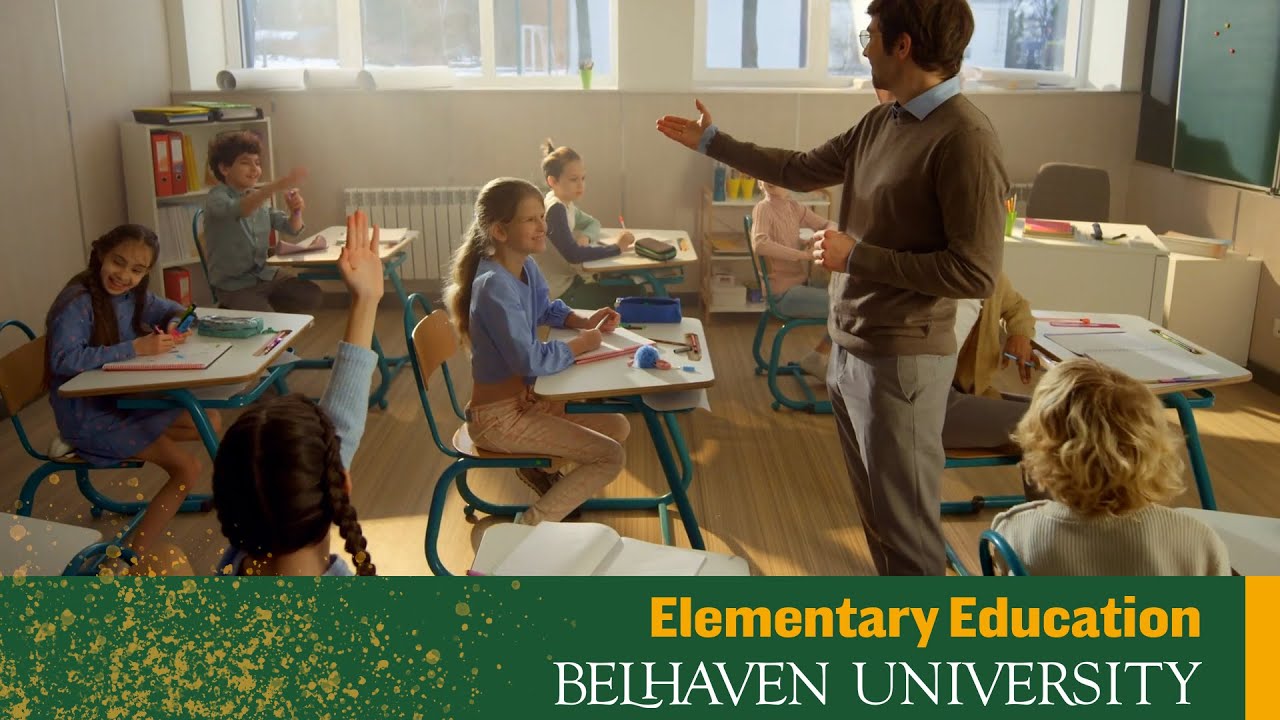 Teachers as Servant Leaders
Additional Undergraduate School of Education Info
Interested in teaching at the middle/high school level? Talk to your advisor about ​dual enrollment in the Secondary Teacher Certification Program, which leads to a Mississippi Middle and/or High School Teacher License.
If you're majoring in Dance, Theatre, Music, or Visual Arts, you can earn a K-12 Five Year Renewable Teacher License after you complete your degree.
The Mississippi State Department of Education will issue a license after you've earned a bachelor's degree in one of the approved performance or visual arts degree programs and you've met the state teacher test requirements.
In addition, you must have a qualifying ACT or Praxis Core Test score and successfully pass the Principles of Learning and Teaching (PLT) Test. There is no requirement for School of Education courses or Clinical Intern Student Teaching hours.
​Special MDE Performance and Visual Arts Teacher License [PDF]
Public school teaching licenses are issued by the Mississippi Department of Education, Office of Educator Licensure, Jackson, Mississippi. Applications for licensure may be secured from the Dean of the School of Education. If you plan to teach in states other than Mississippi, you are responsible for securing all requirements and forms.
Admission to Belhaven University and being a Pre-Education Major in the School of Education DOES NOT automatically admit an individual to the Teacher Educator Preparation Program (TEPP).
​View the requirements for admission to the TEPP Teacher Education Preparation Program [PDF]
Please note: As a Pre-Education Candidate in the School of Education, you may only take a limited number of courses before you must apply for admission into the Teacher Educator Preparation Program (TEPP).
Candidates are admitted to the TEPP after:
Successfully passing the required Mississippi Teacher Educator Entrance Exams;
Successfully completing the requisite education courses;
Meeting and successfully interviewing with the School of Education TEPP Candidate Approval Committee; and
Approval as a Teacher Candidate for the Belhaven Teacher Educator Preparation Program.
If you are not admitted to the TEPP, you can no longer take courses from the School of Education and will be required to change your major.
A Celebrated Haven for Education
Belhaven is accredited by the Southern Commission on Schools and Colleges to award associate, bachelor's, master's, educational specialist, and doctoral degrees. Individual programs, including arts, business, education, and nursing, are further recognized by accrediting agencies in their respective areas. These recognitions prove our ongoing commitment to academic excellence and quality standards.
Contact Us
Office of Admission
Phone:
601-968-5940
Mailing Address:
1500 Peachtree Street, Box 153
Jackson, MS 39202
For campus visit:
Jimmy Hood Welcome Center
855 Riverside Drive
Jackson, MS 39202
Fax: 601-300-2932
Verse of the Year
God is working in you, giving you the desire and the power to do what pleases Him.
Philippians 2:13