Discover Your Creative Vision
As an artist and designer, you're crucial in shaping the culture through the application of knowledge, leadership, creative thought, innovation, and a biblical worldview. Grow creatively and develop spiritually and professionally while earning your BFA, B.A., or a minor in visual art or art history.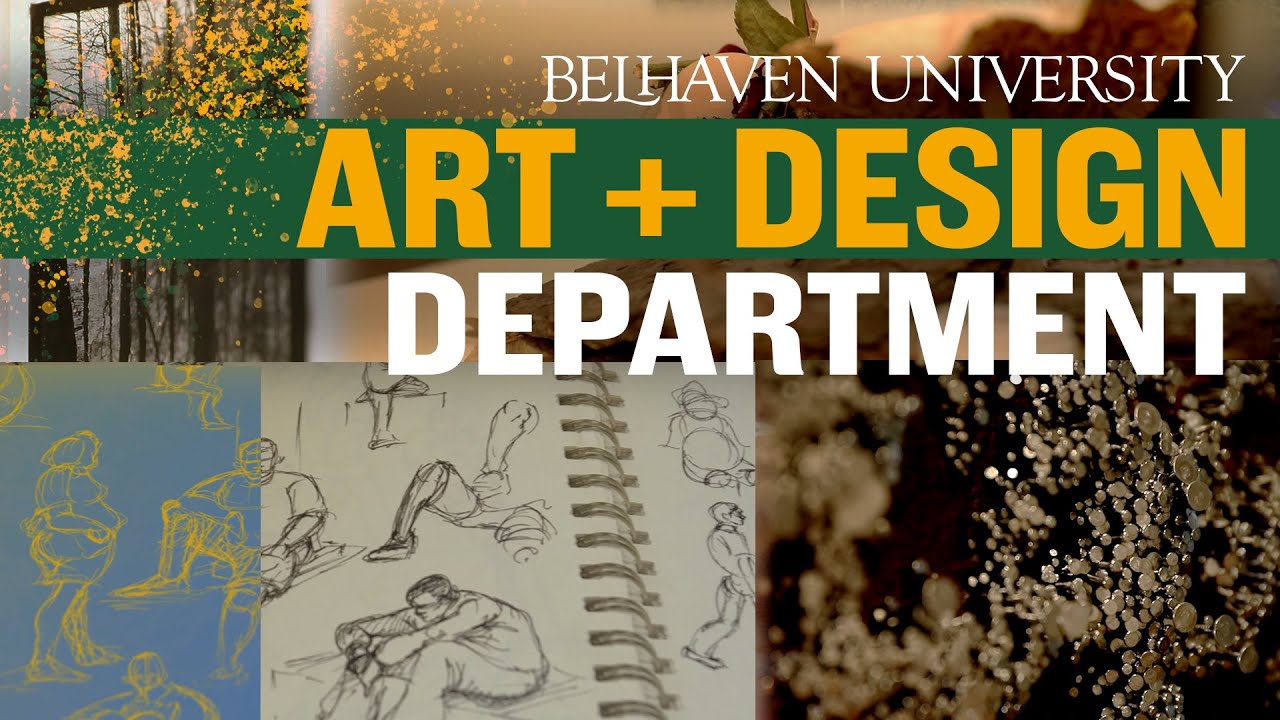 Visual Art Major at Belhaven University
Nationally Accredited
Since 1984, Belhaven has been accredited by the National Association of Schools of Art and Design (NASAD). We are proud to be one of only 39 U.S. universities accredited in all four major arts.
Your Work Your Way
Learning to make good art is hard. Only at Belhaven, with our practicum experience, are you given a dedicated time outside of classes to develop your own unique artistic voice.
A Community of Makers
Our creative community nurtures productivity and scholarly research. It's engaged in learning that is self-directed, hands-on, and guided by faculty that provide one-on-one mentoring, skill-training, and thoughtful critique.
Professional Opportunities
Showcase your work at university events. Connect with our local arts community by exhibiting and selling your work in our on-campus gallery. Take on an internship at a creative agency. These opportunities — along with many others — are open to you, and they prepare you for lifelong success.
Successful Alumni
Our alums are successful artists, designers, photographers, teachers, and more
Master Class
A hands-on experience, featuring local and internationally collected professional artists
Honors Program
Deepen and expand your education intellectually and spiritually
Maker Campus
Make your ideas a reality with advanced facilities and technology
Study Fashion + Art in NYC
We are excited to extend an invitation to our upcoming Fashion Merchandising + Art class in the fashion and art capital of the world, New York City, April 28- May 4, 2024.
This remarkable interdisciplinary opportunity is designed to empower business and art students by immersing them in the fast-paced, real-world environment of the Big Apple.
Learn about this Spring 2024 Class for art and business students
What Can You Do with a Visual Art Degree?
Here are some of the positions currently held by visual art alumni:
3D designer and animator at Enva Division (Daniel Hause, '16)
Ceramic artist in Yorkshire, England (Emily Goff Fratson, '13)
Character designer at Warner Brothers Animation, Los Angeles (Kathryn Hudson, '07)
Design and drawing instructor at Jackson State University (Hosik Kim, '08)
Display artist at Anthropologie (Samara Thomas, '13)
Elementary school art teacher at Smilow Collegiate Charter School (Victoria Sewell, '18)
Fashion photographer in Edinburgh, Scotland (Laura Meek, '12)
University professor (Jacob Rowan, '12)
High school art teacher at St. Andrew's Episcopal School (Emmi Sprayberry, '17)
Independent painter with gallery representation in Richmond and Atlanta (Wes Sumrall, '12)
Owner and photographer at Acorn Studio in Clinton (Erin Govero Fults, '05)
Stained glass artist and restorer at Pearl River Glass Studio (Amelia Key, '11)
Teaching fellow at UC Santa Barbara (Jimmy Miracle, '04)
What Do People Say About Our Alums?
"Invariably, anyone coming out of your program and Belhaven are stellar." — Andy Young, founder and owner of Pearl River Glass Studio
What About Grad School?
Our graduates are well-prepared for graduate school. Our alums have earned degrees from these prestigious institutions:
Savannah College of Art and Design (MFA in Illustration)
University of California at Santa Barbara (MFA in Studio Art)
Maryland Institute College of Art — MICA (MFA in Studio Art)
Wichita State University (MFA in Painting)
University of Mississippi (MFA in Ceramics and Sculpture)
Seattle Pacific University (MFA in Poetry)
Louisiana State University (M.A. in Art History)
University of Southern Mississippi (M.A. in English)
Auburn University (M.A. in Liberal Arts)
Reformed Theological Seminary (M.Div.)
National Accreditation
Belhaven University is an accredited institutional member of the National Association of Schools of Art and Design (NASAD).
Visual Art: What You'll Study
Art + Design Scholarships
In addition to our Visit Scholarship, you can supplement your financial aid award with an academic scholarship from Belhaven's School of the Arts!
To qualify, you must be accepted for admission, submit your high school GPA and test scores, and complete your FAFSA. When you schedule a personal visit or attend an Arts Discover Day, we'll assess your scholarship potential when you present your portfolio to one of our professors.
It's time to show off your skills — let's get started!
Register for Arts Discover Day
Contact Us
Office of Admission
Phone:
601-968-5940
Mailing Address:
1500 Peachtree Street, Box 153
Jackson, MS 39202
For campus visit:
Jimmy Hood Welcome Center
855 Riverside Drive
Jackson, MS 39202
Fax: 601-300-2932
Verse of the Year
God is working in you, giving you the desire and the power to do what pleases Him.
Philippians 2:13