Save the Date: October 20-22, 2023
Homecoming and Family Weekend is more than just an event. It's an occasion to celebrate everything that's unique and incredible about Belhaven University. Join us back on campus October 20-22, 2023 to enjoy special events, share memories, build new traditions, and reunite. Take a sneak peek at some of the fun events planned for Homecoming and Family Weekend!
Continue to check back frequently for details and updates surrounding our schedule of events. Additional information will also be shared via e-mail and Facebook.
View the Homecoming and Family Weekend schedule below or download a print-friendly PDF of the Homecoming schedule.
If you're unable to join us, we hope to see you next year! Questions? Email alumni@belhaven.edu or call 601-968-8719.
2023 Homecoming and Family Weekend Schedule
Parent and Family Check-In
3:00-5:00pm, Student Center Desk (Students and their families)
Alumni Award Recipients Meet and Greet
4:30-5:15pm, Joy Lackey, McCravey Triplett Student Center
This reception is for 2023 alumni award recipients and their spouses.
Alumni Awards Ceremony
5:30 PM, Dr. Billy Kim International Center
This will be a great time of fellowship and celebration. Dinner will be served. Tickets are $25, seats are limited. RSVP by Oct. 12th.
Pep Rally and Highland Games
7:30-9:00pm, Belhaven Bowl (All)
This will be the third annual Pep Rally and Highland Games, open to students, faculty, staff, and alumni.
Alumni Tennis Reunion, 8:00pm
Belhaven Town Center, 1121 N Jefferson St, Jackson, MS 39202
Alumni Tour of Campus
9:00 am, Welcome Desk, McCravey -Triplett Student Center.
Join the Alumni Office for a guided one-hour tour of campus.
Alumni Tennis Match & Pickleball
9:00 am, FitNetWork, 300 Lake Circle, Madison, MS 39110
50 Year Club
10:00 am, Dr. Billy Kim International Student Center, Room 202
All alumni from the classes of 1973 and earlier are invited to attend and reminisce.  Brunch will be served. RSVP by Oct. 12th. 
Alumni Homecoming Tailgate
11:00 am, Belhaven Bowl, Stadium Operations and Media Center Patio
Join us under the alumni hospitality tent to watch the game and fellowship. Lunch plates available for purchase.We will celebrate the Tennis National Championship Anniversary and Hall of Fame Celebration.
Parent & Family Tailgate
11:00 am-Halftime of football game (Belhaven Bowl) (Students and their families)
This will be a come-and-go table with snacks, giveaways, and games for families and students.
Football Game: Belhaven vs. Methodist University
12:00 pm, Belhaven Bowl
Watch the game from the alumni hospitality tent or from the Belhaven Bowl. Free Admission.
Mother and Daughter Tea
Immediately Following Football Game (BKIC 202) (ALL)
This will be the third annual Mother and Daughter Tea, open to all female students and visitors.
Father and Son Axe Throwing
Immediately Following Football Game (Location TBD) (All)
This will be a new event open to all male students and visitors.
Women's Soccer: Belhaven vs. Wesleyan College
5:00 pm, Belhaven Bowl
Free admission.
Homecoming Dance
8:00pm (Auxiliary Gym) (Students)
This traditional event will be open to Belhaven students.
Homecoming and Family Weekend Worship
8:30 am, First Presbyterian Church N. State St., Jackson, MS 39202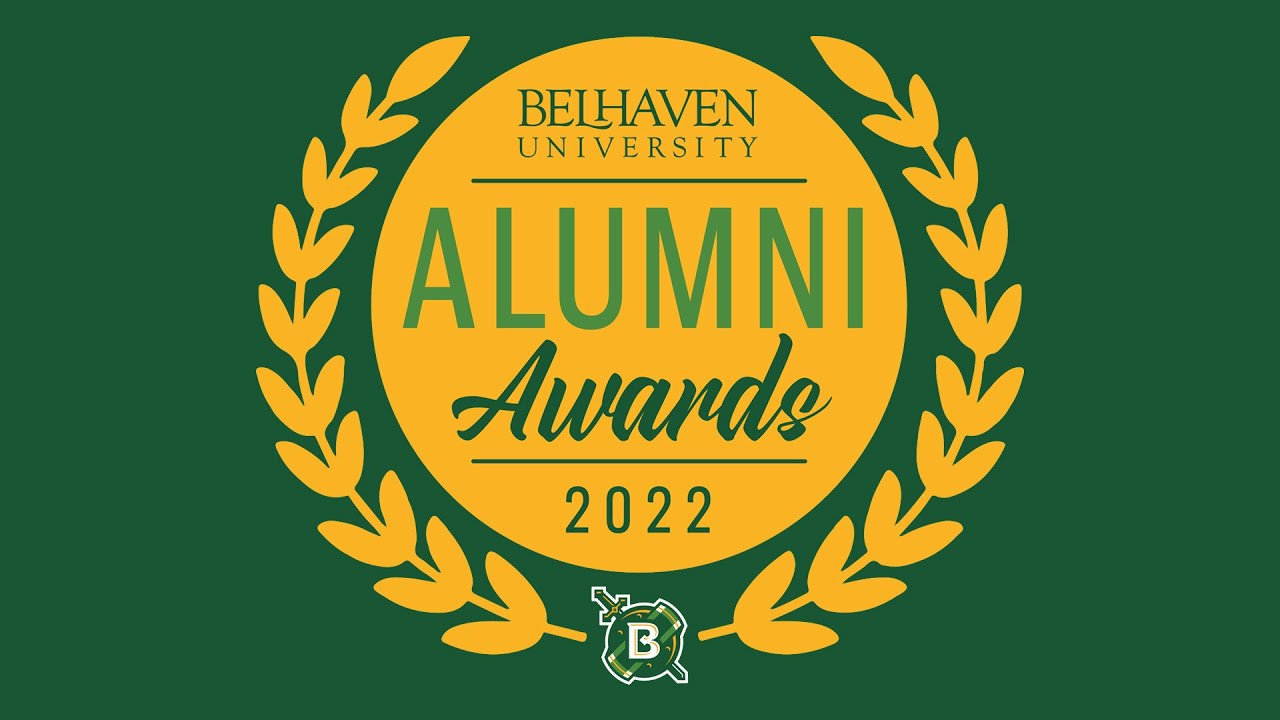 Homecoming and Family Weekend Additional Info
2023 Alumni Award Winners
Dr. Harrison Scott Key is a winner of the Thurber Prize in American Humor and author of three books, including How to Stay Married (2023), Congratulations Who Are You Again (2018), and The World's Largest Man (2015). His books have been favorably reviewed in the Washington Post, New York Times, Publisher's Weekly, Christianity Today, WORLD, and elsewhere.
Harrison's humor and nonfiction have appeared in The Best American Travel Writing, The Best American Essays, New York Times, Garden & Gun, Oxford American, Outside, The Bitter Southerner, McSweeney's, Town & Country, The Mockingbird, Salon, Savannah Magazine, Reader's Digest, Image, Southern Living, Gulf Coast, and Creative Nonfiction.
Harrison has spoken and performed at more than 200 festivals, conferences, universities, and bookstores, as well as on the TEDx stage, where his talks can be found at TED.com and on YouTube. He holds degrees in playwriting (Ph.D.), creative writing (MFA.), theater (M.A.), and psychology (B.A.) and has held teaching and administrative positions at Tulane University, Mississippi State University, and SCAD in Savannah, Georgia, where he has worked since 2007.
Harrison lives in Savannah with his wife, Lauren, and their three daughters.
Dr. Sixbert P. Muhoza is a Walter Massey Fellow in the Applied Materials Division at the United States Department of Energy's (DOE) Argonne National Laboratory. He is passionate about developing and advancing green energy-related research, technologies, and products. His research focuses on developing novel two-dimensional materials for energy storage and decarbonization technologies.
Sixbert was born in Rwanda, where he attended his foundational education in primary and secondary schools. Upon graduating high school, he was awarded a presidential scholarship by the government of Rwanda to pursue college education in the United States. The scholarship was awarded to the top 0.1% of STEM high school graduates and enabled him to pursue a Bachelor of Science (B.S.) in Chemistry at Belhaven University. Upon completing the B.S. degree, he pursued a Ph.D. in Materials Chemistry at Wake Forest University where he also served as a Postdoctoral Research Associate. His research focused on developing and preserving nanomaterials at high temperature as well as their integration into solid oxide fuel cells (SOFC) electrodes. Through his ANL training, he envisions growing into a scientist who develops solutions to society's most pressing challenges. Furthermore, he is passionate about and envisions collaborating with African STEM students and professionals to develop high-quality research, technologies, and products.
Thomas Jackson came to Belhaven in 1987. He is a graduate of All Saints Episcopal School in Vicksburg, Mississippi. While at All Saints, he played tennis and basketball. Upon arriving at Belhaven, he played four years of tennis. His teams were undefeated in conference play and won four conference championships. The team also finished in the top ten of the NAIA Tennis Tournament. Thomas was a three-year manager for the men's basketball team.
He graduated from Belhaven in 1997, with a BS in Health and Physical Education with a History minor. He became a graduate assistant coach at Delta State University in Cleveland, Mississippi. Upon graduating with his Master's Degree in Kinesiology in 1993, he embarked on a 31-year coaching career in coaching basketball at all levels. At the moment, he is the assistant basketball coach for the Shreveport Mavericks in The Basketball League.
Thomas has been a long-time raving fan of Belhaven. His support for his alma mater stands out on multiple levels. He is well known for traveling the 222 miles from his front door to "The Haven" at the drop of a hat and a single phone call. Although his first loves are Tennis and Basketball, Mr "Ibleedpurpleandgold" has been known to show up for the Belhaven Music Department, Blazer Football, and to make a 1408 mile round trip drive to give the half time pep talk to the men of Belhaven Soccer. He has previously been recognized as the "Best Dressed Blazer" for his haute coutre.
A Shreveport, Louisiana native, Thomas is married to the love of his life Rebecca, from Greenwood, Mississippi. Thomas and Rebecca have three children, Mary Laura 25, Helen 23, and Thomas 20. They presently reside in Shreveport, Louisiana.
Kim Duhs was born in New Orleans but moved to Brandon, MS, shortly after. She completed her education in the Brandon schools and graduated in 1976. Kim began her college education at Belhaven College in 1976 at the age of 16 years old. She wanted to attend Mississippi State University, but her father insisted that she stay closer to home because of her young age. He always told her she could transfer, but he knew that she would love Belhaven and would never want to leave. He was right!
Kim was not sure of her major when she was in her freshman year, but she had always loved working with children, so she decided to take some education classes. Her first class, Child Psychology, with Bettye Quinn, sealed the deal! She took every class she could from Bettye Quinn, her favorite professor. She is humbled to receive this award in her honor.
She earned a BS in Elementary Education in 1980. Upon graduation from Belhaven, Kim taught remediation classes at Pisgah High School and, years later, began teaching preschool at her church, Lakeside Presbyterian Church. She also served as the Preschool Director there before working at First Presbyterian Day School to be close to her children. She served as Company Director for a year before accepting a teaching position in the kindergarten. Kim taught kindergarten for 24 years and loved every minute of her job!
Kim is now the Kindergarten Principal at First Presbyterian Day School, serving families with children in K3, K4, and K5 classes. She loves her school and enjoys being a part of the First Pres. family. She has seen so many of her kids grow up, and some of her former students are now teaching at the Day School with her.
She is married to Lindsey Duhs, and they have two children, Seth (Roberta) and Carlee. She has three precious grandchildren, Vivian (5), Iris (3), and Boaz (18 months). Vivian is joining her at school this year as a kindergartener.
Aileen Thomas is a senior tax partner and member of the board of directors at the law firm of Jones Walker LLP. Based in the firm's Jackson office, Aileen has developed a national reputation representing banks and investment funds in tax credit financing transactions. She also regularly serves as bond and underwriting counsel for public finance transactions for a variety of clients, including nonprofit and public hospitals, institutions of higher learning, local school districts, and national and regional investment banking firms.
Since 2015, Aileen has served on Jones Walker's board of directors, where she is a trusted leader, decision maker, and firm representative. She has been consistently recognized for her legal work in national publications such as Chambers USA: America's Leading Lawyers for Business in the area of Corporate/Commercial: Municipal Finance; The Best Lawyers in America© in the areas of Commercial Finance Law, Commercial Transactions/UCC Law, and Corporate Law; and Mid-South Super Lawyers in the area of Government Finance. She has also received the Leadership in Law Award (2017), been named one of Mississippi's 50 Leading Business Women (2007), and been listed among the "Top 40 Under 40" (2003) by the Mississippi Business Journal.
Outside of the office, Aileen devotes her time and efforts to many civic and professional organizations. She is a member of the National Association of Bond Lawyers, the New Markets Tax Credit Coalition, the Historic Tax Credit Coalition, the Partnership for Job Creation, The Mississippi Bar (past chair of the Business Law Section), and the St. Andrew's Parents Association (chair elect). She is a current member of the board of directors of Habitat for Humanity Mississippi Capitol Area as well as a past member of the board of directors for both the Junior League of Jackson and the Center for Nonprofits. As the former president of the Mississippi Women Lawyers Association, Aileen frequently mentors new female associates within her firm, illustrating her dedication to creating lasting change for women in the legal profession. Most important, Aileen is a dedicated mother to her six children and wife to David and enjoys spending time with her family.
Aileen earned her Bachelor of Arts summa cum laude from Belhaven University in 1991. She then earned her Juris Doctor with honors from Mississippi College School of Law, where she served more than 10 years as an adjunct professor to second- and third-year law school students in secured transactions and contract drafting.
Chuck McArthur grew up in Jackson and was the third in his family to come to Belhaven. God captured his affections while in the 9th grade while active in the youth ministry of Alta Woods Presbyterian Church. By the time he entered Belhaven, he had a strong sense of God's call to ministry. Godly theologians like Drs. Ralph Davis, Knox Chamblin, and George Hunsburger taught him how to study God's Word from a position of humility. Meanwhile, Belhaven provided him the opportunity to grow as a leader and Bible study teacher with his peers. He graduated in 1981 with a BA in Bible and Christian Education.
During his senior year, he started dating the one who would become his wife of 42 years, Sheree DuBois from Ft. Lauderdale. Since living on a small campus provides the opportunity to "date" several times every day, they were excited to be married the September after graduation. After serving as a youth pastor for two years, they moved to Liberia, W. Africa, to teach at the African Bible College along with their three-month-old son. This 2-year commitment would end up shaping the course of his life.
After three wonderful years at RTS Jackson, they and their three sons moved to Eustis, FL, to plant and pastor New Hope PCA. Eight years later, God called them to plant Cross Creek PCA in Northeast FL, where he served for 14 years. During this time, he made a return trip to Liberia that resulted in his church helping to rebuild the Bible College after Liberia's 13-year civil war and later teaching there for several summers.
It was after one of those trips that God made it clear that it was time to resign from the pastorate and join a young mission agency called Equipping Leaders International (ELI) and focus on training global pastors. Five years later, the board asked him to become their new Executive Director. He has served in that position for eight years, during which time the faculty has grown from 13 to 53. ELI is currently working in 34 least-resourced countries around the world, training 56 different networks of pastors. It is estimated that 3 million people are currently benefiting from those ELI has or is training. In Liberia alone, Chuck works with 46 Liberian trainers who recently graduated 628 church leaders from their 15-course pastor-training curriculum.
Dr. Jarrett R. Morgan is a native Mississippian. He graduated from Belhaven University in 2010 with a Bachelor of Science degree in Biology. He went on to complete both medical school and a residency in combined Internal Medicine and Pediatrics from the University of MS Medical Center, and is now triple board-certified in Internal Medicine, Pediatrics, and Obesity Medicine.
Following residency, he acted as Chief Resident of Pediatrics for the 2019-2020 academic year before joining the UMMC faculty as Assistant Professor of Internal Medicine and Pediatrics. He has been fortunate to also carry numerous clinical, educational, and administrative roles at UMMC, including caring for adult and pediatric patients for Primary Care and Weight Management needs in his outpatient practice. He has also worked as an adult and pediatric hospitalist.
Fostering his love for education, he now oversees Internal Medicine and Pediatric residents as an attending physician in both outpatient and inpatient settings. In early 2022, he accepted a position at UMMC as an Assistant Program Director of Pediatrics. He currently also serves as a Co-Course Director of the first-year medical school course, Introduction to the Medical Profession, which teaches medical students the basic skills of how to communicate with patients, physical exam skills, and other aspects of general medical care.
In his spare time, he enjoys reading, listening to music, spending time with his family, and attending NBA basketball games (when his career allots  J). Jarrett is a faithful believer since early childhood and daily seeks to live out Biblical principles and incorporate them into his practice of Medicine and his interactions with students, residents, fellow providers, and patients. 
Cade Trisler grew up in Vicksburg, MS, the middle child of three siblings in a very typical "middle America" family. While attending Warren Central High School, Cade embarked on his landscaping journey at the age of 13. Cade's hard work and dedication paid off as he successfully managed to acquire over 40 accounts for his landscaping business.
Following his passion for soccer, Cade enrolled at Belhaven University, playing on a partial scholarship. Cade was a part of the 1992 National Championship squad, was 1994 Most Improved Player of the Year, and was Team Co-Captain in 1995. Cade graduated with a degree in Biology in 1995.
After graduation, Cade made the decision to turn his passion for lawns into a full-fledged business, and completed a degree in Landscape Management from Hinds Community College. In 1995, Cade established Trisler Landscape, an enterprise focused on delivering exceptional landscaping services to a diverse clientele, including both residential and commercial customers.
Over the years, Cade has successfully cultivated a distinguished reputation within the industry. Cade and his team are dedicated to continued education in their craft, leading their employees efficiently and effectively with the goal of maintaining high standards of quality.
A crucial member of Cade's team is his wife, DeJuana Trisler. While Cade leans towards managing the business, DeJuana, "Mama D," takes care of their people. Understanding the rule, "take care of your people, and they will take care of the customers," they value their team members and focus on what God's plan is for their employees. They strive to love their people whether they are there for a day, a year, or decades, wanting them to become the person that God has created them to be. Driven by their faith, Cade and DeJuana foster an environment of inspiration and motivation by instilling daily their mantra of "Love God, Love Others & Change the World." They work hard and play hard.
The Trislers are raising five boys and are members of Pine Lake church, where Cade is in his third year serving as a Deacon.
Violinist, Jocelyn Zhu, earned her Bachelor of Arts from Belhaven University in 2014 at the age of 14 under the tutelage of Professor Song Xie. Upon graduation, she moved to New York City, where she completed her master's degree at The Juilliard School.
Jocelyn made her Carnegie Hall debut in 2016 and has since spent her career pursuing ensemble, chamber, pedagogical, and outreach work. Her performance career has taken her to over thirty countries, and has won her awards in over ten national and international competitions.
Passionate about social change through her vocation, Jocelyn co-founded Concerts For Compassion in 2018. Bringing music to refugees across the globe, Jocelyn has traveled to three continents alongside the United Nations, The Red Cross, and Support International. She has been invited as a guest presenter at the Peace First Summit, The Juilliard School, and National Sawdust.
Jocelyn has appeared on Good Morning America, PBS, The Today Show, and WQXR's Young Artist Showcase. As a chamber artist, her most memorable and joyful performances have included appearances with the Chelsea Music Festival and The Perlman Music Program with Itzhak Perlman. As an ensemble player, she currently performs with the New York Classical Players, The Princeton Symphony, and Symphony in C. Notable awards include the Juilliard School Career Grant, the McGraw Hill Robert Sherman Award, the National Trustees Grant, the Tarisio Trust Young Artists Grant, and the U.S. Department of State Federal Assistance Award.
Currently, Jocelyn is teaching a vibrant studio of over 40 musicians, many of whom have gone on to study at prestigious institutions including The Juilliard School, Manhattan School of  Music, and Mannes School of Music. When she isn't practicing, she is vigorously searching for the best new bowl of ramen in Manhattan.
Contact Us
Office of Alumni & Development
Phone:
601-968-8719
Belhaven University
Office of Advancement
1500 Peachtree Street, Campus Box 158
Jackson, MS 39202
Verse of the Year
God is working in you, giving you the desire and the power to do what pleases Him.
Philippians 2:13