Belhaven's Singing Christmas Tree is a rich Belhaven tradition, enjoyed by more than a thousand people each year. This annual event, started in 1933, is considered to be the world's oldest outdoor singing Christmas tree tradition.
Come Join the Annual Singing Christmas Tree December 2nd and 3rd, 2022!
As the new director of Belhaven's Singing Christmas Tree, I personally invite you to participate in this year's tree as a committed singer. As a new faculty member, I was amazed to realize this annual event has been Belhaven's gift to the community for 90 consecutive years, and is America's original singing tree! Online it is celebrated as one of the South's best Christmas traditions.
I believe this is our best opportunity for the three areas of our university – athletics, academics, and the arts – to partner together in a way that will benefit us all personally, and maximize the momentum for Belhaven possible through this unique, annual tradition.
Singing on the tree is not about being a great singer, it's about being part of Belhaven's best and best-known tradition that continues to distinguish our university throughout our community, state, and beyond. Thanks for your partnership toward making this year the best Singing Tree possible.
Tim Walker, Belhaven's Worship Choir Director and Instructor of Worship Leadership
Singing Christmas Tree Information
Yes, we would love to have you join us! There is no audition, just participate!
Tree singers fill the tree from top to bottom and sing to pre-recorded instrumental tracks as LED lights programmed to the music light up the tree in hundreds of different colors and combinations!
For the first time ever, all music is online once singers complete and return their commitment card (audio demo and printed music as desired), downloaded from a free APP for easy listening and prep.
Singers are asked to attend three rehearsals convenient for them from five rehearsals offered.
Rehearsals start at 6:00 p.m. in the Concert Hall of the Center for the Arts beginning Oct. 11 – Nov. 29.
In person rehearsals for adults participating in the Singing Christmas Tree will be held in the Concert Hall of the Center for the Arts at Belhaven. The date and times are as follows:
Tuesday, October 11 - 6:00 p.m.
Tuesday, October 25 - 6:00 p.m.
Thursday, November 3 - 6:00 p.m.
Tuesday, November 29 - 6:00 p.m.
Participants are also asked to attend the dress rehearsal and both presentations.
Thursday, December 1 (Dress Rehearsal at 6:00 p.m., call time in gym by the Belhaven Bowl stadium)
Friday, December 2 (Presentation at 7:30 p.m., call time 6:30 pm in gym by stadium)
Saturday, December 3 (Presentation at 7:30 p.m., call time 6:30 pm in gym by stadium)
We want you to participate, and understand attending the rehearsals offered on campus throughout November aren't an option for you. This is one of the benefits to this year's repertoire being available online for you to learn and rehearse!
If you can attend the December 1st dress rehearsal and presentations – and are committed to regularly listening to all the musical selections – you are welcome to join us as long as there is space on the tree.
To reserve your spot, complete the Commitment Card. Be sure to indicate you are an out-of-town participant, planning to join us for the dress rehearsal Thursday evening, December 1, at 6:00 pm.
That's great news; we are glad to have you be part of the 2022 Singing Christmas Tree!
Fill out the Commitment Card to let us know of your intent to participate.
Note: It is required that all singers fill out this form. Tree singers do not have access to online audio demos or printed music until BU's Music Office receives the signed commitment card and enters the participant's email into Belhaven's Planning Center account.
All music sung this year is available to hear online through a free App downloadable to your phone, IPad, or computer. Printed music and rehearsal audio demos teaching the soprano/alto/tenor/bass parts on applicable songs are also available on this downloadable APP. This is a convenient way to listed to the music as you commute to work, exercise and go about your daily activities.
Downloading the Music:
Complete and return the Commitment Card, confirming your commitment and participation
Belhaven's Music Office will enter the e-mail address you submit on your Commitment Card into our online account for the music App, Planning Center.
Download "Planning Center Services" from the App Store or Play Store online.
Once your email address has been entered by BU Music Staff, you will receive a confirmation email from Planning Center and Mrs. Jennifer Reese in the BU Music Office.
Open this email and click ACCEPT(You will be unable to open Planning Center on your phone app until you accept this email.)
Receive CODE sent from Planning Center / Set your personal password
All Done!
Click the bullet on the right margin of each song title to listen. Select from the listening options that will display an available list for each individual song.
The Singing Christmas tree began as an informal gathering for faculty and students to come watch Belhaven music professor Mignonne Caldwell's all female choir sing in the formation of a Christmas tree. Realizing that members of the community would enjoy witnessing this event, Caldwell moved the concert outside, between Preston and Fitzhugh Halls. The first wooden tree frame for the choir was constructed by Mr. C. V. McLain, a College engineer. Thus, the outdoor Belhaven College (now Belhaven University) Singing Christmas Tree tradition was born.
Caldwell directed the outdoor Singing Christmas Tree event until her retirement in 1962. At that time, Henry Thomas Ford, Director of the Concert Choir, began directing the Tree. Belhaven had since become a co-educational institution so Ford added men to the chorus. A new, taller tree frame was constructed to accommodate the new male voices.
Today, members of the Belhaven Concert Choir, along with alumni, faculty and staff, typically perform the outdoor Singing Christmas Tree concert on the first weekend in December. A large new 35 foot tall wooden and metal tree structure accommodates up to 100 singers. Performers wear white robes with reflective collars and tiaras to heighten the visual impact of the tree.
Certain traditions have become expected elements to the tree. An auditioned soloist is positioned under the star located at the very top of the tree. This honored soloist performs "O Holy Night" near the Tree's conclusion. Other traditions include artificial snowfall during "White Christmas" and humorous "insider jokes" interposed into the lyrics of "Rudolph the Red Nosed Reindeer" and other secular carols.
The second half of the Singing Christmas Tree celebrates the birth of Jesus Christ through Scripture and sacred carols. The great sacred music of Christmas offers a great opportunity for Belhaven University to testify of the lordship and saving grace of Jesus Christ to the large numbers of attendees.
The Singing Christmas Tree tradition continues serving the Jackson community by providing a spiritually edifying, fun-filled event of visual and musical splendor.
Southern Living highlights a Belhaven Christmas Tradition
Belhaven's oldest and most famous tradition -the Singing Christmas Tree -is highlighted in the December 2008 edition of Southern Living magazine: "If heaven had a school choir, this would be it," begins the article by Farrah Austin. Everyone familiar with the Belhaven Singing Christmas Tree knows that it is a special event for the entire community. As Austin notes, "Families gather to witness what most call the start of the holiday season in Jackson, Mississippi."
For over 75 years, families, students, and neighbors have flocked to the Belhaven Singing Christmas Tree, and large crowds are expected once again this year, with an estimated number in the thousands. Roberta Sachs, junior voice major, will be at the tree's pinnacle as the chosen soloist. Eighty students will don their robes and hold their lights, forming the yearly glow that fills the campus with joyful sounds.
See news release published on November 14, 2005:
Named One of The Top 20 Events In The Southeast
Belhaven College will host its 73rd Annual presentation of the Belhaven Singing Christmas Tree on December 2-3. A Belhaven tradition since 1933, the event was recently name one of the Top 20 Events in the Southeast by the Southeast Tourism Society, an organization dedicated to the marketing and promotion of travel to and within the great Southeastern States.
"What a wonderful honor given to such a timeless southern tradition," said Dr. Roger Parrott, president, Belhaven College. "We are thankful for the privilege to present the Singing Christmas Tree on our campus as a gift to Mississippi, now for more than seven decades. And, we are pleased the replicas of the Singing Christmas Tree have carried forward in thousands of churches all around the world during the Christmas season."
The Belhaven Singing Christmas Tree is an outdoor choral performance of the holiday season's favorite carols. This year, the concert will feature the collaboration of members of the greater Jackson community and college musicians under the direction of Mrs. Carolyn Sachs, adjunct music professor.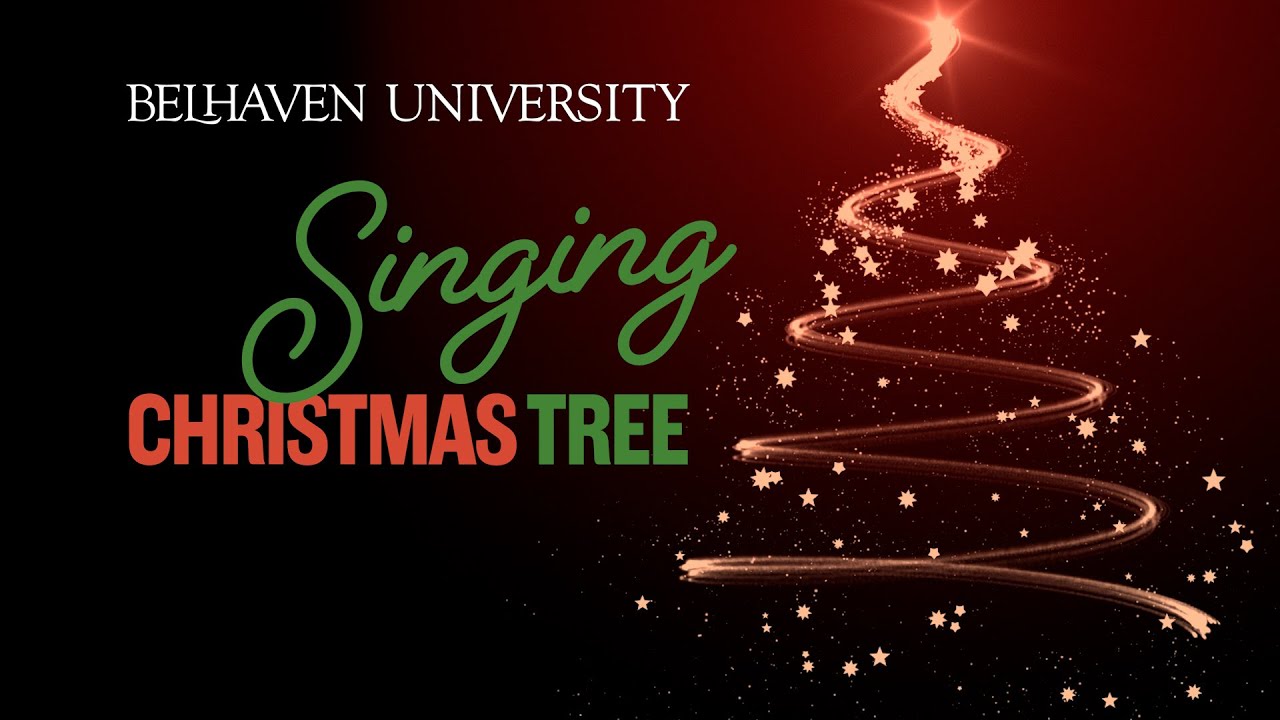 Belhaven University Singing Christmas Tree
Verse of the Year
Anyone who listens to my teaching and follows it is wise, like a person who builds a house on solid rock.
Matthew 7:24