Come Dance With Us!
We look forward to seeing you during your audition and introducing you to our thriving dance community!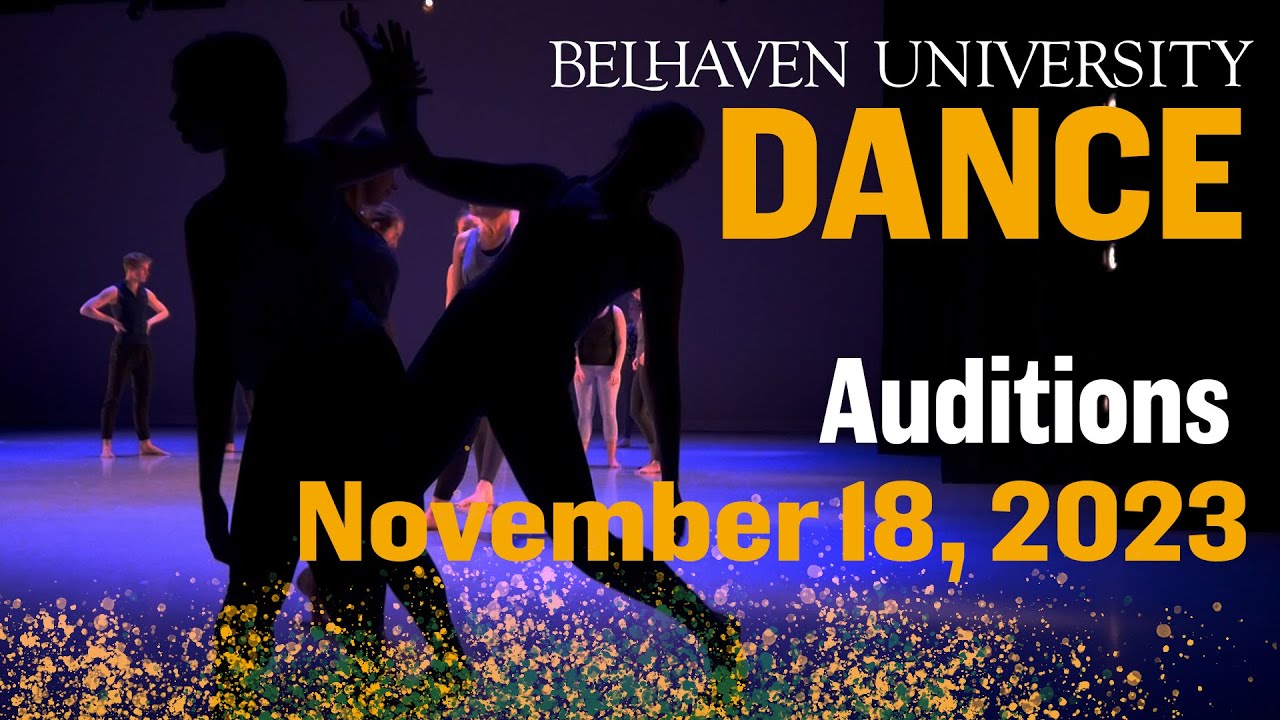 We Invite You to Audition for Dance at Belhaven
Upcoming Auditions
To major or minor in Dance at Belhaven, attend an upcoming audition.
Audition Dates
In-person auditions will be held on campus at Belhaven:
Saturday, November 18, 2023, from 8:00 a.m. - 2:00 p.m.
Saturday, February 10, 2024, from 8:00 a.m. - 2:00 p.m.
Schedule
Registration: 8:00 – 8:30 a.m. (Bitsy Irby, 2nd floor)
Dance Audition: 8:30 a.m. - 12:30 p.m. (Bitsy Irby, Studio 4)

The audition begins with a modern dance warm-up followed by ballet center floor phrases.
Students will also have the opportunity to learn and perform a short modern dance or ballet phrase to showcase their talents and interests.

Informational Meeting for Students and Parents: 12:30 p.m. (Bitsy Irby, Studio 4)
Faculty and Student Meet-and-Greet: 1:00-2:00 p.m.
Arts Discover Day
Belhaven hosts Arts Discover Day the Friday before dance auditions. During this event, you explore all Belhaven has to offer by:
Meeting dance faculty, staff, and students
Observing or taking dance classes with current students
Touring campus
Attending a choreography showcase
What to Expect
What to Expect
Part of a successful audition is how you prepare. The audition will start with a contemporary warm-up, progressing into a ballet technique class.
Audition Attire
Dancers should dress appropriately for contemporary dance and ballet.
Men should wear:
Tight-fitting t-shirt
Black tights
Athletic pants or shorts can be worn over ballet tights for the contemporary dance portion
Ballet slippers for the ballet portion
Women should wear:
Solid-colored leotard
Pink or skin-toned tights
Leggings or cropped pants can be worn over ballet tights for the contemporary dance portion
Secured hair
Ballet slippers for the ballet portion; pointe shoes are optional
Explore Belhaven & Jackson
Parents may be present during the audition check-in and at the information session with dance faculty after the audition. During the audition, parents can explore the beautiful Belhaven campus or the Jackson area at large. View the Visitor Information Guide for places to eat or things to do while visiting campus and Mississippi's capital city.
Q&A Session
We invite you to attend an information meeting and Q&A session with Belhaven's dance faculty at 12:30 p.m. in the Bitsy Irby Studio 4. This is a chance to pose questions, get answers, and learn more about your child's future at Belhaven.
Due June 1
In-person dance auditions are preferred, but we understand that it may not be possible for you. We'll accept a video audition if you're unable to travel to Jackson for auditions.
Here's how to audition by video:
Auditioning for Belhaven? See Our Dancers Perform
You're invited to watch a Belhaven Dance Concert when attending an audition weekend in November or February. Envision yourself alongside other talented dancers who can help you thrive in your artistic practice. Tickets are complimentary for auditionees and their families.
Contact Us
Dance Department
Phone:
601-965-1400
Belhaven University
1500 Peachtree St., Box 314
Jackson, MS 39202
Bitsy Irby, 2nd Floor
Verse of the Year
God is working in you, giving you the desire and the power to do what pleases Him.
Philippians 2:13