The Belhaven Blazers Marching Band is an exciting and dynamic ensemble comprised of both music and non-music majors. Made up from almost every field of study, it is one of the larger co-ed organizations on the campus. The band is a vital part of the Belhaven University Athletics; performing at all home football games, some away games, parades, and marching exhibitions.
Auditions are required. After your audition, you may be eligible for additional aid based on your performance level and family financial need.
Experience great camaraderie among Blazer Band members, great social opportunities and friendships that last a lifetime, as well as the pride of performing in one of Belhaven University's best-loved new music traditions.
Band members consistently gain recognition on campus, and are active in many campus organizations. Other university ensembles open to membership are the Symphonic Band, Jazz Ensemble, Jazz Combo, Symphony Orchestra and numerous chamber groups.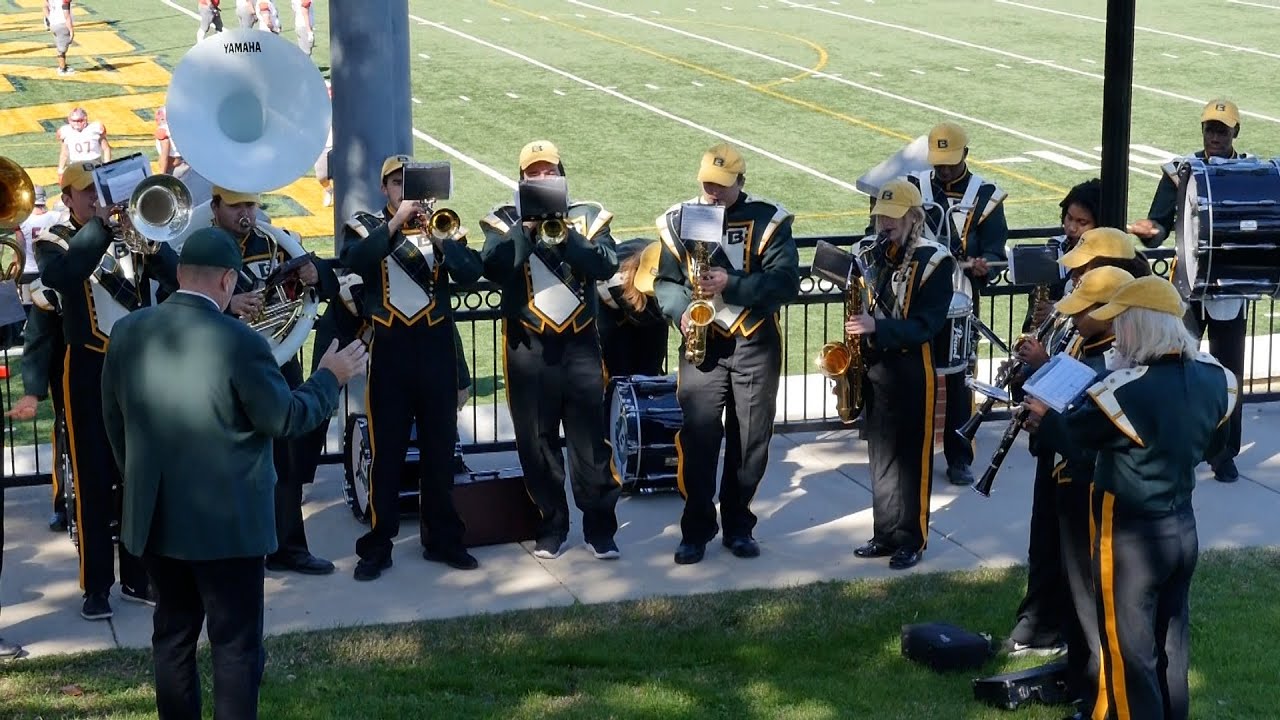 Learn about the many band and music groups at Belhaven
Frequently Asked Questions
Yes. There is now a set, marching band scholarship that applies to winds/percussion, colorguard and dance. Students that march in the band and Blazers Dancers are eligible for the marching band scholarship. Please contact Casey Kirk, Marching Band Director at ckirk@belhaven.edu for more information.
Apply to Belhaven to begin the process of your acceptance to the University.
Submit/report your high school GPA and either your ACT or SAT test scores. Based on this information, we will offer you a scholarship that recognizes your academic achievement.
Plan a campus visit for an audition and review by the Director of Band. Your portfolio will be taken into consideration as we complete your final scholarship award package.
Complete the Free Application for Federal Student Aid (FAFSA). The FAFSA will let us know how much federal assistance OR Belhaven need-based assistance you are eligible to receive. Regardless of what you think your family might qualify for from the federal government, we STRONGLY encourage you to complete the FAFSA, as Belhaven's grants are typically more generous than the government estimates.
When we have all your information (academic record, portfolio, and FAFSA), you will receive a comprehensive financial aid package influenced by all three of these factors.
Feel free to contact the admission office at any time (1-800-960-5940 or admission@belhaven.edu) to learn more or to meet with an admission counselor.
Please make sure that you have auditioned to Mr. Kirk to be eligible for the marching band scholarship. You will be asked to play several scales including your chromatic scales, and you must prepare and perform a musical excerpt of your choice.
Yes! The band rehearses only 90 minutes, two days a week. Many members of the band each year receive generous scholarships and assistantships to graduate schools in their areas of study.
Yes! Many members of the band participate in numerous social and service activities for Belhaven University. Some also serve as council members, senators or class or executive officers. Many Blazers band members also maintain active memberships and serve as officers in campus social clubs.
We have members from every size high school, with diverse levels of ability including those with little or no experience. At this time about 85% of the band members are non-music majors. If you can play your instrument, we can teach you the rest. We use "corps" style marching which can be learned quickly and easily. We welcome anyone who wishes to participate. There is no need to feel nervous or intimidated!
No! The band performs at the home football games (usually 5-6) and maybe one away game. There are several open weekends that will allow you plenty of time to go home and visit friends and family, or even hold a part-time job, if you wish.
There is an audition process for the marching band. Simply enroll in MUS175 (credit). One-hour credit allows you to receive a grade toward your GPA and costs one hour of tuition. The non-credit option allows you to pay a nominal participation fee and though the grade appears on your transcript, it does not affect your GPA. Regardless of your enrollment option, grading criteria are the same for all members.
The grading policy is based almost exclusively on attitude and attendance. If you are at rehearsals and performances, it will be an easy A!
We can provide all large marching instruments including sousaphones, baritones, percussion, marching French horns, etc.
If you have already registered and have a conflict with the band time, we would be glad to work with you to make band possible in your schedule. With freshman level courses, there are almost always additional sections available of the courses you need. If you do have a conflict, simply contact your advisor to add the course.
Blazers Color Guard
The Blazers Color guard adds a visual component to the marching band. Members are not required to play an instrument in any concert bands but are encouraged to participate in other areas of the Belhaven University Music Department. If you are looking to continue your color guard career or want to try something new, the Blazers color guard is a great way to make friends, get involved, and cheer on the Blazers football team.
Experience
Potential members should have at least one year of color guard experience. Exceptions can be made on an individual basis, especially for those with experience in twirling, cheerleading or drill team.
Time Commitment
The color guard is required to be present at all rehearsals and performances, including football games, parades, etc. The color guard rehearses with the band. Sectional days and times will be determined by the co-captains and members based on schedules.
Scholarships
All color guard members are eligible.
Auditions
A brief audition consisting of basic fundamentals must be done prior to acceptable to the Color Guard Line. For more information please contact Casey Kirk, Director of Bands at ckirk@belhaven.edu.
Enrollment
All members of the color guard must be enrolled in band. Band can be taken either for credit, no-credit.
Leadership Auditions
The auditions for color guard captain are held in the spring. To audition for a leadership position, one year of experience in the Blazers color guard is required.
During the audition, you will demonstrate the following:
Flag fundamentals while standing in place & while marching.
Marching Skills / Body Movement
Drop Spins
Wind Mills / Back Scratches
Blue Devils
A Variety of Tosses (i.e. Vertical Toss, Horizontal Toss, Speed Spin Toss, Blue Devils Toss)
Jazz Walk/Run
Chasse (sha-Say)
Saute (soh-Tay)
Carves/Figure 8's
Flag routine that will be taught to you including a choreographed dance segment.
Dance Team
The Belhaven Blazers' Dance Team is a team of dancers who enjoy entertaining audiences via jazz, pom, and kick routines at Blazer football and basketball games.
During the football season, they affiliate themselves with the marching band by performing as a part of the Belhaven Marching Band's halftime field show, in addition to sideline routines. During the basketball season, they perform during halftime, in addition to courtside routines with the Belhaven Pep Band.
For students who enjoy dancing, entertaining, and supporting the Belhaven Blazers in school spirit, the Dance Team is for you.
Verse of the Year
God is working in you, giving you the desire and the power to do what pleases Him.
Philippians 2:13