Be A Part of the Story
When you study theatre at a Christian university like Belhaven, you are invited to engage with theatre as collective and collaborative storytelling. And YOU have a role to play in it.
Our theatre program welcomes unabashedly creative theatre artists like you to join us in a community that values artistic excellence, individualized mentorship, and the discovery of each person's unique calling and focus.
Whether you want to be on stage, behind the scenes, or both, you will find an encouraging environment filled with opportunities to explore new ways of creating and storytelling. We serve the Great Storyteller, and we celebrate your ability and desire to be a part of the story!
National Accreditation
The Belhaven University Department of Theatre is an accredited institutional member of the National Association of Schools of Theatre (NAST).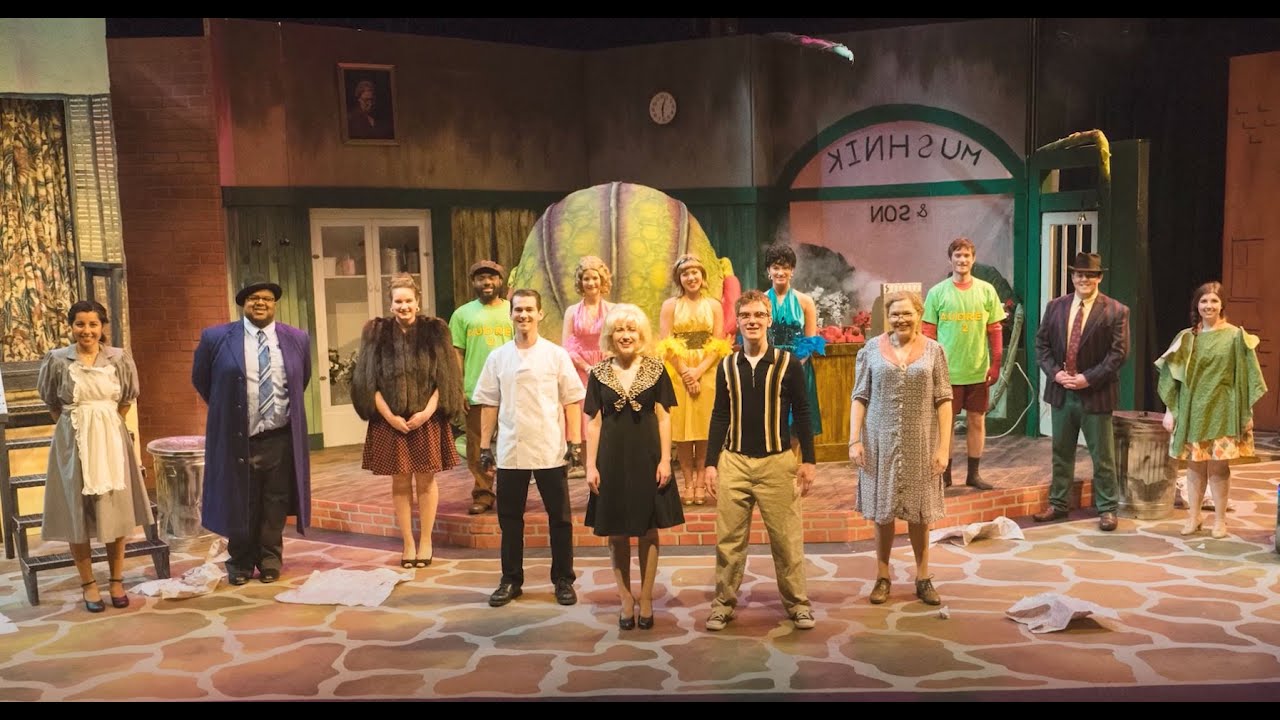 Theatre Major from a Christian University: Belhaven University
Why You'll Love Theatre at Belhaven
Individualized Hands-On Training
Your resume will grow as you gain hands-on experience in our production season. And with our individualized approach to portfolio development and audition preparation, you'll be well-positioned to hit the ground running when you graduate.
Caring & Expert Faculty
Our faculty are theatre professionals who approach theatre from a position of faith and artistic excellence. They will mentor, encourage and push you to grow through a collaborative, rigorous program that equips you for your theatre career.
A Community of Artists
You'll join a community of like-minded artists committed to serving the story. Collaboration thrives when each person is valued, encouraged, and respected. Your classmates will support you and become co-creators with you.
Professional Networks
You'll find connections in our alumni who work in theatres across the nation. Plus, with internship opportunities at New Stage Theatre, you can add professional credits to your resume and begin to build your networks.
Small

Class Sizes

Our student-faculty ratio is 13:1, meaning you receive personalized attention and instruction
Dynamic Facilities
Fully equipped production shops and spacious Blackbox Theatre with 54'-square grid
1/3

Of Our Students

Major in the arts, signifying our commitment to these programs
4

Productions Per Year

Refine your craft as you participate in our bold production season
What Can You Do with a Theatre Degree?
Actor
Scenic designer
Director
Stage manager
House manager
Costume designer
Drama therapist
Marketing and public relations director
Dramaturg
Company manager
Box Office manager
Critic
Dresser
Literary manager
Lighting designer
Head carpenter
Wigmaker
Cutter/draper
Head electrician
Props designer
Theatre teacher
Sound engineer
Makeup artist
Run crew
Stitcher
Technical director
Projections designer
Voiceover artist
What Will I Learn?
Collaboration and Teamwork
Creative Problem-Solving
Contemporary Scene Study
Acting Styles
Voice and Movement for the Actor
Stage Combat
Scenic Construction
Lighting Design
Sound Engineering
Costume Design and Construction
Principles of Theatre Design
Visual Storytelling
Dramaturgy and Theatre History
Stage Management
What Are Belhaven Grads Doing Now?
Acting in companies such as the National Players, Taproot Theatre, Trustus Theatre, New Stage Theatre, and off-Broadway theatres
Designing and working backstage at companies such as the Alley Theatre, Synetic Theatre, Trinity Shakespeare, the Arden Theatre, New Stage Theatre, and Sight and Sound Theatre
Teaching all ages and in all settings
Appearing in television shows such as The Walking Dead: World Beyond and in national ads for companies like Amazon Prime
A Celebrated Haven for Arts Education
Only 39 universities in the U.S. are accredited in all major arts. Belhaven is one. That means master classes, great performances, and national competitions. When you study art, dance, music, or theatre here, you're earning a degree from a nationally recognized school for the arts.
Theatre: What You'll Study 
Theatre Scholarships
In addition to our Visit Scholarship, you can supplement your financial aid award with an academic scholarship from Belhaven's School of the Arts!
To qualify, you must be accepted for admission, submit your high school GPA and test scores, and complete your FAFSA. We'll assess your scholarship potential along with your audition or portfolio review when you're on campus for Arts Discover Day.
Onstage or backstage, it's time to raise the curtain for your new role as a Blazer!
The Belhaven Advantage
Fuel your academic passions and expand your career options. Belhaven offers our freshmen a unique deal: double major, and we'll pay the tuition if you need a fifth year in school. Double major in two arts programs, pair a business degree with a STEM major … the possibilities are endless!
Auditioning for Theatre Admission
Prior to auditioning for the Theatre Department, you must be admitted to the university. For more information, contact an admission officer or apply now.
Join our community of artists! We can't wait to create theatre with you. Learn how to audition or present your portfolio.
Opportunities for Theatre Majors
Gain valuable experience and build your resume as you participate in our annual season of top-quality productions. Our ambitious and respected production season will provide you with material for your reels, portfolios, websites, and more.
Belhaven Theatre students are sought-after interns at New Stage Theatre, Mississippi's premier professional regional theatre. Our students have also been hired to work at Summerstock companies such as the Hangar Theatre; Ocala Civic Theatre; Tecumseh Outdoor Theatre; and The New London Barn Playhouse. Add professional credits to your resume before you even graduate.
Each semester, our students present a jury as part of our rigorous training program. Production majors present portfolios and performance majors perform audition material for a jury of faculty and theatre professionals. By the time you graduate, you will have a fully vetted portfolio and/or a list of at least 10 audition-ready monologues and songs.
Contact Us
Office of Admission
Phone:
601-968-5940
Mailing Address:
1500 Peachtree Street, Box 153
Jackson, MS 39202
For campus visit:
Jimmy Hood Welcome Center
855 Riverside Drive
Jackson, MS 39202
Fax: 601-300-2932
Verse of the Year
God is working in you, giving you the desire and the power to do what pleases Him.
Philippians 2:13