Build Your Ministry on a Solid Foundation
Answer your divine calling by earning a bachelor's degree in biblical studies.
At the heart of the Biblical Studies degree is the conviction that the Bible is God's Word and that it is the final authority for faith (what we believe about God) and life (how we are called to live). In addition, this degree program is designed for students to grow academically in their knowledge of God's Word, spiritually in their relationships with Jesus Christ, and practically in their preparation for ministry.
Belhaven University is an exciting place to study the Bible and to prepare for ministry, and the Biblical Studies major serves as an excellent foundation for life and for ministry!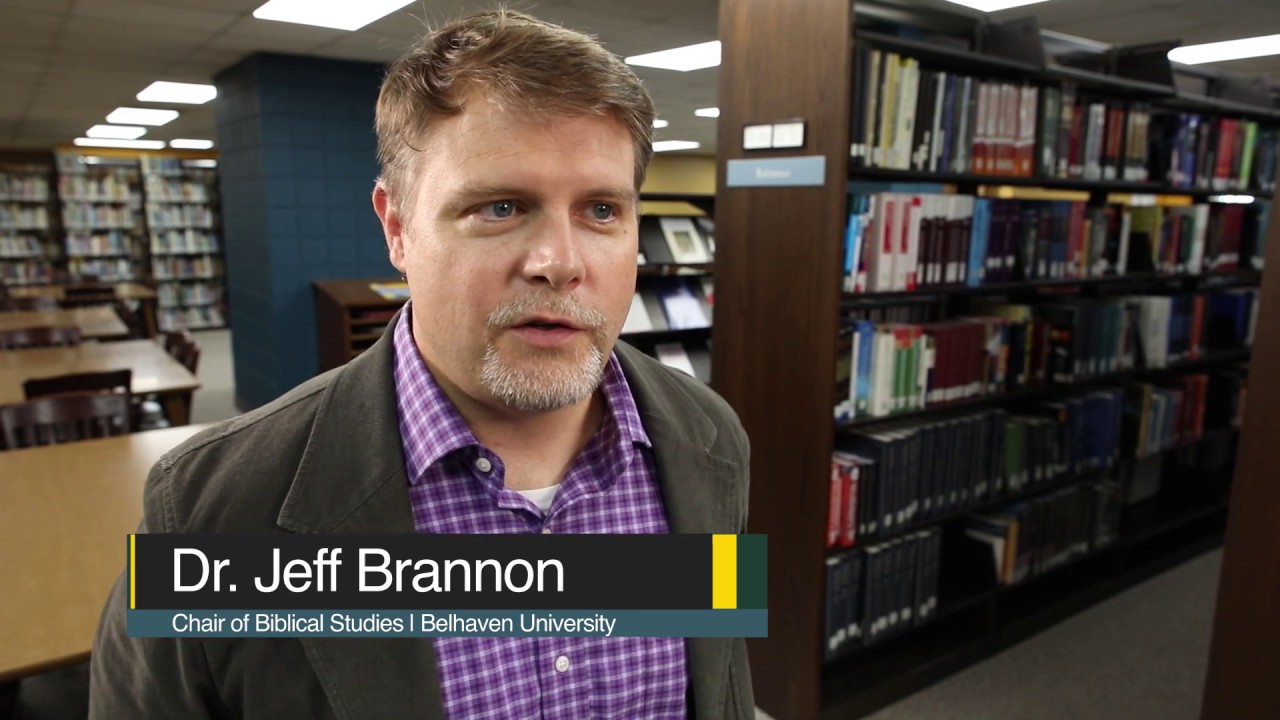 Christian Worldview
You are challenged to think critically and analytically about who God is — and who you are — as we equip you to fulfill your calling to glorify God and be a blessing to the world.
Caring Faculty
Our faculty members are experts in their fields, and they're dedicated to helping you understand complex subjects. Enjoy fellowship and community among faculty and students.
Affordability & Aid
Don't let cost stand in the way of your educational goals. We're committed to offering tuition rates that are affordable. Plus, you may benefit from ample financial aid resources, including grants and scholarships.
Internships
Internships are a part of, and an option for, the Biblical Studies degree. Faculty work with students to set up these opportunities with churches or ministries.
Small

Class Sizes

Our student-faculty ratio is 13:1, meaning you receive personalized attention and instruction
Honors Program
Deepen and expand your education intellectually and spiritually
Career Options
Enjoy options ranging from pastoral ministry to Christian counseling
1883

Founding Date

Our rich heritage of excellent educational opportunities spans nearly 140 years
What Can You Do With a Degree in Biblical Studies?
Our graduates go on to pursue successful careers as:
Chaplains
Children's and youth ministers
Christian educators
Counselors
Missionaries
Pastors
Camp Directors
Church Planters
Medical Missions
Bible Teachers
Law School
Non-Profit World
Writers and Editors
These careers flourish because, in addition to scriptural studies, you learn:
Interpreting the Bible for yourself and others
How to step into a global perspective
Seeing social responsibility on a global scale
Understanding Christian doctrines
Why and how the church works
Commitment to evangelism and missions
God's purposes for churches
Why Trust Belhaven With Your Future?
Our quality is recognized by SACSCOC, which grants our institutional accreditation and authority to award associate, bachelor's, master's, educational specialist, and doctoral-level degrees. Plus, we're consistently recognized by organizations like U.S. News & World Report for our academic excellence, commitment to community service, expert faculty, and overall value.
Biblical Studies: Your Curriculum
B.A. in Biblical Studies with Missions & Cultural Relations Concentration
B.A. in Biblical Studies with Theology Concentration
B.A. in Biblical Studies with Youth & Children's Studies Concentration
Our Motto: A Commitment to Service
The Belhaven University motto, "To serve, not to be served," is adapted from Matthew 20:28. In these scriptures, Jesus establishes the concept of servant leadership. We follow His example by encouraging our students to live a humble life full of selfless service.
Tell Me More About Internships…
During your time at Belhaven, you can also serve as an intern in various capacities in multiple ministry settings, including:
International missions
Evangelism
Discipleship
Sports ministry
Urban ministry
Leadership training
Christian community development
Camp counseling
Recreation leadership
After-school tutoring
Crisis counseling
Youth work
Hospital chaplaincy
Bible study leadership
Double Major & Get Your 5th Year Free
Fuel your academic passions and expand your career options. Belhaven offers our freshmen a unique deal: double major, and we'll pay the tuition if you need a fifth year in school. Double major in two arts programs, pair a business degree with a STEM major … the possibilities are endless!
Contact Us
Office of Admission
Phone:
601-968-5940
Mailing Address:
1500 Peachtree Street, Box 153
Jackson, MS 39202
For campus visit:
Jimmy Hood Welcome Center
855 Riverside Drive
Jackson, MS 39202
Fax: 601-300-2932
Verse of the Year
God is working in you, giving you the desire and the power to do what pleases Him.
Philippians 2:13