Answering the Call to Serve
If you're fascinated by the possibilities of ​​​​understanding the science of health and illness and have a strong desire to serve others, you'll find fulfilling — and well-paying — ​​​​​​work in nursing.
And opportunity is knocking. Loudly. In fact, the United States is experiencing a shortage of nurses with bachelor's degrees, and this shortage is only expected to intensify through 2030, according to the Bureau of Labor Statistics.
We can prepare you for this challenging position with a unique curriculum — one built on the values of servant leadership — and a great on-campus experience. Apply for our four-year program today.
Caring & Expert Faculty
Our​​​​ academically qualified faculty members are highly skilled and incredibly compassionate. They want you to succeed and will be your biggest cheerleaders and supporters. You can count on them for an excellent education.
Affordability & Aid
We strive to make your education both excellent and affordable. We offer competitive tuition rates and generous scholarships. These factors help you complete your education without a mountain of student loan debt.
Excellent Facilities
As a student nurse, you'll learn in top-notch facilities on a beautiful campus located minutes from the state's largest medical corridor. These modern spaces include thoughtfully designed learning areas and a fully equipped skills lab.
Christian Worldview
You are challenged to think critically and analytically about who God is — and who you are — as we equip you to fulfill your calling to glorify God and be a blessing to the world.
203K

Open Positions

Expected in the nursing field each year through 2031
4

Years

Time it takes to complete Belhaven University prerequisite and nursing classes
1883

Founding Date

Our rich heritage of excellent educational opportunities spans nearly 140 years
Nationally Recognized Accreditation
Our Bachelor of Science in Nursing program is accredited by the Commission on Collegiate Nursing Education (CCNE), which is recognized in all 50 states and U.S. territories. This voluntary accreditation proves our ongoing commitment to continued growth, effective educational practices, and nationally shared standards.
What Can You Do With a BSN Degree?
Our graduates go on to ​​pursue successful careers as nursing professionals in:
Case management and home care
General and surgical hospitals
Outpatient care
Physician's offices
Research
School health
Specialty care
You may also continue your education and earn a graduate degree in nursing, which allows you to teach or pursue higher positions, such as nurse practitioner.
Nursing: What You'll Study
High School Students: Secure Your Slot in Nursing School
Learn more about our Nursing Freshman Guarantee. This option allows high school students to apply to Belhaven University during their junior year and earn guaranteed admission status to our School of Nursing. Certain acceptance and eligibility criteria apply.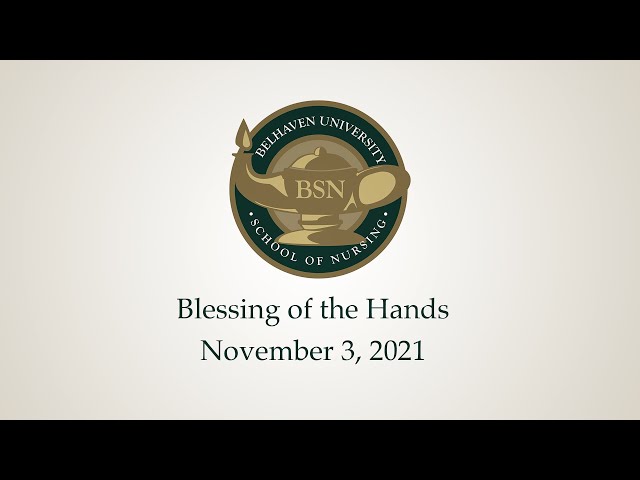 Play
Blessing of the Hands Ceremony
Each year, nursing students participating in their first clinical experience take part in the Blessing of the Hands ceremony. The ceremony — attended by family members and friends — is a beloved tradition and includes an inspiring message, a time of worship, and a prayer for these up-and-coming servant leaders.
Contact Us
Office of Admission
Phone:
601-968-5940
Mailing Address:
1500 Peachtree Street, Box 153
Jackson, MS 39202
For campus visit:
Jimmy Hood Welcome Center
855 Riverside Drive
Jackson, MS 39202
Fax: 601-300-2932
Verse of the Year
God is working in you, giving you the desire and the power to do what pleases Him.
Philippians 2:13