Apply Your Research in Distinctive Leadership and Service
Administrators, assistant principal, curriculum director, district superintendent, department chair, teachers — an Ed.D. from Belhaven University opens doors to high-profile administration positions in K-12 or college settings.
During your Ed.D. program, you conduct research that addresses current and emerging issues in education, write and defend your dissertation, and develop your skills as an influential thought leader.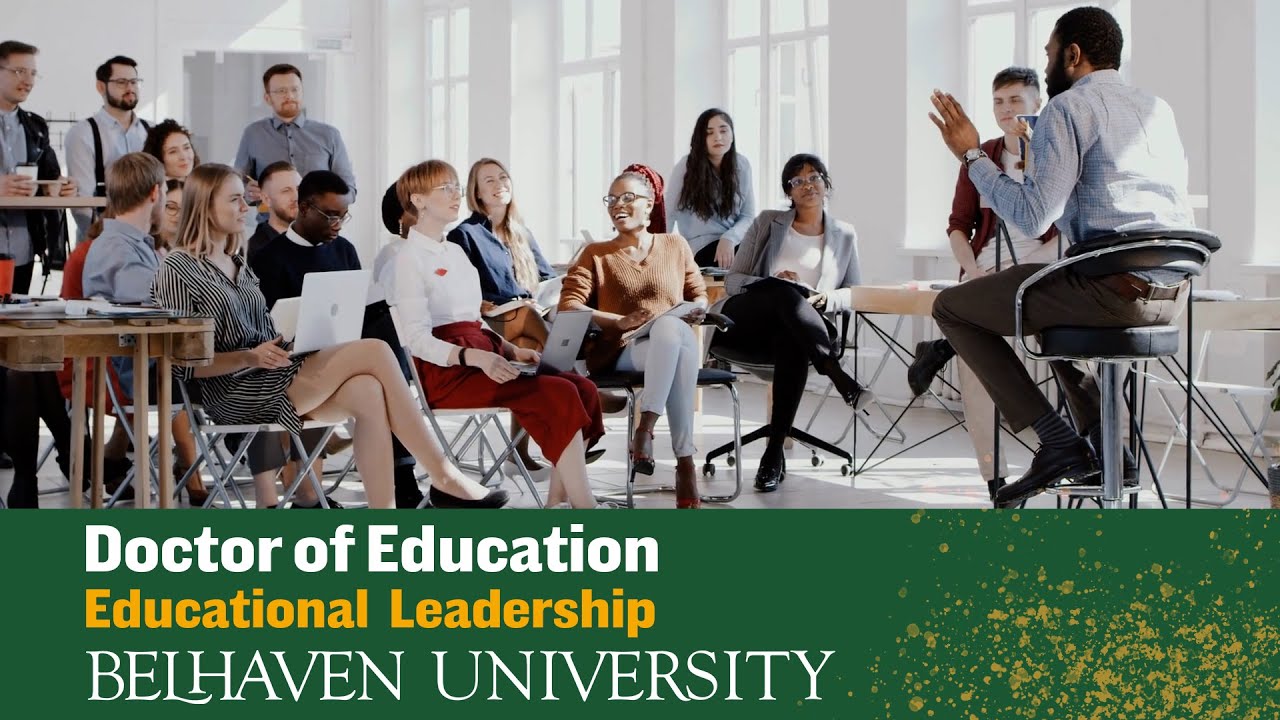 Renowned Mentors
Courses are taught by Christian education leaders with significant professional experience.
Career Advancement
An Ed.D from Belhaven focuses on fostering and applying new research in the field of elementary and secondary education.
Christian Worldview
The Graduate School of Education's Christian worldview distinctive is foundational to the School of Education's six professional core values: Knowledge of Content, Professional Growth, Assessment, Instructional Methods, Learning Environments, and Professional Dispositions.
Accredited
The Belhaven University School of Education is approved by the Mississippi Board of Education to offer teacher education programs.
2

Residency Sessions

Intensive on-campus interaction with your professors, dissertation advisor, and fellow Ed.D. candidates
Special Discount Rate for Educators
All students enrolled in this program are eligible for the special educator's discount rate
Affordable
Our tuition is economical and competitive; plus, you may qualify for discounts and other aid
Independent Research + On-Campus Connections
The Doctoral Educational Leadership degree program is based on 60 credit hours of post-master's degree study, incorporating a 12-credit hour research dissertation.
In addition to your online courses, you'll attend two residency sessions on the Jackson campus. Residency sessions are two to three days of orientation and preparation for research and dissertation writing.
Residencies provide real-time experiences with your professors, meetings with your dissertation chairperson, and networking opportunities with other Ed.D. candidates. These sessions are scheduled at strategic points throughout your program, coinciding with Phase II and Phase IV of the Ed.D. plan of study.
Phase I: Professional Advanced Education Courses
30-33 credit hours of core content courses taken online (equating to the Ed.S. degree)
Phase II: Introductory & Orientation Courses to the Ed.D.
Phase III: Research and Methods Courses
No residency requirement: Courses are taken online
Phase IV: Dissertation Block
Residency 2 (R2) is taken in conjunction with your research and writing your dissertation, addressing the various stages of chapter development. This allows for personal one-on-one and face-to-face dissertation advisement.
After completing your dissertation, you will be required to come to the Jackson campus for your oral defense.
Explore More: Program Details
We're looking for applicants who have the academic acumen and professional experiences to succeed as a doctoral candidate, and the personal qualities and dispositions to advance as educational leaders.
Your admissions package will include:
Application for admission.
Evidence of your valid Ed.S. degree in the field of education with a minimum 3.0 GPA:

Official bachelor's degree transcript from a regionally accredited college and/or university.
All official graduate-level academic transcripts from regionally accredited colleges and/or universities.

An academic research paper — 3-5 pages, citations, 3+ references — completed in APA format. A paper written for a previous Ed.S. level course taken within the past 5 years may be submitted.
A copy of your current standard teaching license or documentation of experience in an educational context.
A professional letter of recommendation from your current supervisor.
A signed Memorandum of Understanding (MOU).
These rates are for August 1, 2023 through July 31, 2024.
| Program | Per Credit Hour |
| --- | --- |
| Doctor of Education in Educational Leadership | $605 |
| Education Specialist in Educational Leadership | $605 |
| Special Discount Rate for Educators | $484 |
All students enrolled in this program are eligible for the special discount rate for educators.
* Military/first responder benefits cannot be combined with any other institutional scholarships or discounts.
Visit the Scholarships, Tuition & Fees page to view other fees as well as the cost estimate calculator.
Meet Our Dean (School of Education)
Contact Us
Office of Adult, Graduate, and Online Admission
Phone:
601-968-5940
Mailing Address:
1500 Peachtree Street, Box 153
Jackson, MS 39202
Fax: 601-300-2932
Verse of the Year
God is working in you, giving you the desire and the power to do what pleases Him.
Philippians 2:13