Learning By Doing
Take the excitement you feel as you start an experiment and turn it into a wide range of career options. That's what majoring in chemistry does for you.
In our Bachelor of Science (B.S.) in Chemistry degree program, you study the behavior and properties of matter, which makes up, well, everything. Chemistry — known as the "central science" — connects physics and mathematics, biology and medicine, and the earth and environmental sciences.
This degree positions you for success in a variety of occupations. You could pursue graduate school, do research, or work as a lab technician. You could go to a professional school and pursue a career in dentistry, medicine, pharmacy, or physical therapy.
It's up to you. We give you the educational foundation — built with our hands-on and personalized approach — and you're prepared for whatever career pathway you choose.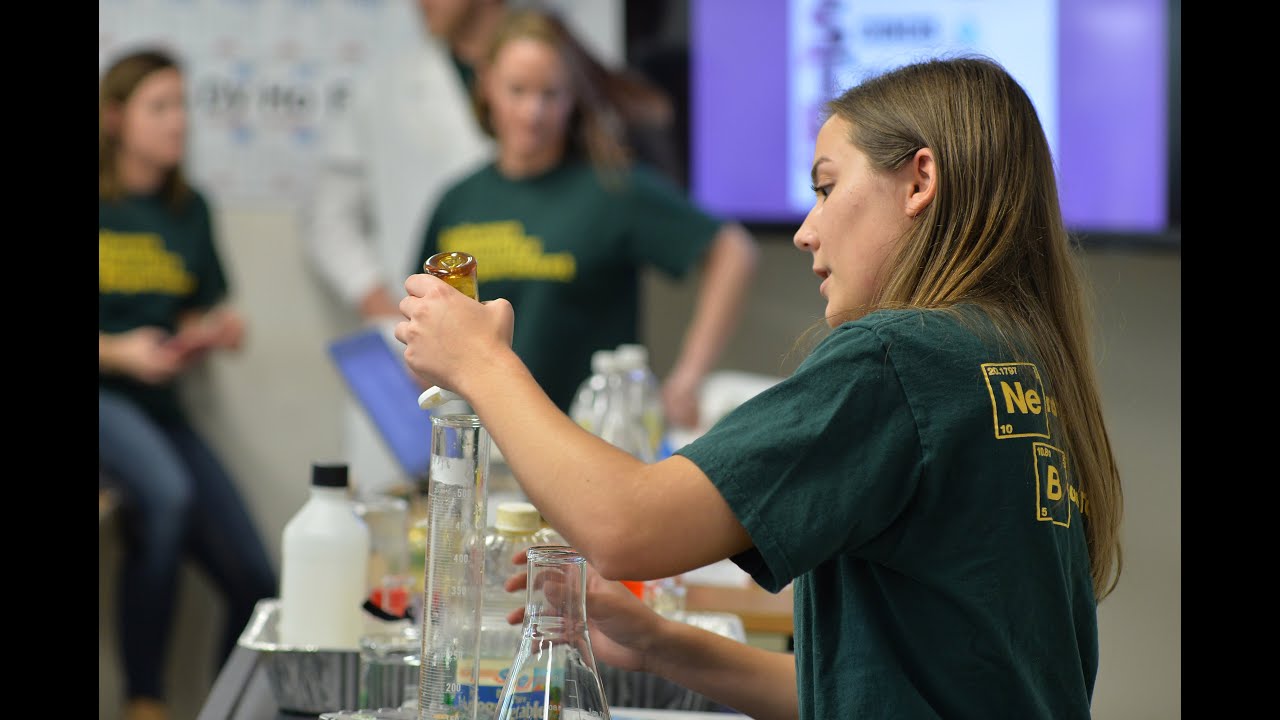 Chemistry Major at Belhaven University
Affordability & Aid
Don't let cost stand in the way of your educational goals. We're committed to offering tuition rates that are affordable. Plus, you may benefit from ample financial aid resources, including grants and scholarships.
Great Internships
Earn internship opportunities with local chemical companies, medical centers, and research labs. These experiences build your resume and equip you with excellent skills.
Caring Faculty
As experts in their fields, our faculty members are dedicated to helping you learn complex subjects. They know you by name, and they push you to succeed at the highest level.
Christian Worldview
You are challenged to think critically and analytically about who God is — and who you are — as we equip you to fulfill your calling to glorify God and be a blessing to the world.
13:1

Student/Faculty Ratio

Small class sizes mean big opportunities
Green

Chemistry

Our green science initiative includes environmentally friendly lab experiences
80%

Female Students

Persuing STEM education
Award

Winning

Our ACS Student Chapter has received national recognition for service and community building
What Can I Do with a Chemistry Degree?
Clinical health professions, including dentist, pharmacist, and physician
Chemical and science education
Chemical engineering and material science
Chemical industry lab technician
Environmental quality and management
Natural resource conservation and exploration
Research and development
Scientific communications
You can also earn higher degrees of education, including master's and doctoral degrees.
Chemistry at Belhaven Teaches You How To…
Appreciate the literature, philosophy, and history of science
Understand complex subjects like analytical chemistry, biochemistry, classical and quantum physics, computational and theoretical chemistry, organic and medicinal chemistry, and physical chemistry
Carry out chemical reactions in a safe environment
Analyze chemical products and reactions with modern laboratory equipment in a hands-on learning environment
What Are Belhaven Grads Doing Now?
Attending top-ranked graduate schools
Serving on the medical mission field
Teaching
Treating patients as physicians, dentists, or nurses
Working as lab technicians, in environmental quality and management positions, and in research roles for national labs and chemical companies
Our Motto: A Commitment to Service
The Belhaven University motto, "To serve, not to be served," is adapted from Matthew 20:28. In these scriptures, Jesus establishes the concept of servant leadership. We follow His example by encouraging our students to live a humble life full of selfless service.
Chemistry: What You'll Study
Double Major & Get Your 5th Year Free
Fuel your academic passions and expand your career options. Belhaven offers our freshmen a unique deal: double major, and we'll pay the tuition if you need a fifth year in school. Double major in two arts programs, pair a business degree with a STEM major … the possibilities are endless!
Make the Most of Your Chemistry Major
Our student chapter of the American Chemical Society (ACS) was founded in 2013. Any student with an interest in chemistry is invited to join. As a member, you attend ACS events where you learn about new scientific developments, and you also have networking and research opportunities.
The Belhaven chapter — which was named an "Outstanding" chapter by ACS in 2019, 2020, 2021, and 2022 — hosts a variety of events throughout the year. In addition to educational and social events, we host campus-wide celebrations of National Chemistry Week and Chemists Celebrate Earth Week.
For more information, contact Dr. Brandon Magers, faculty advisor, at bmagers@belhaven.edu.
If you plan to attend dental, medical, nursing, occupational therapy, pharmacy, or physical therapy school, advisors in the School of Science and Mathematics can help you get ready. Learn more about our pre-professional advisement offerings and prerequisites to attend these programs.
The "maker movement" — a celebration of creativity, curiosity, hands-on learning, and invention — is alive and well at Belhaven through our Creative Labs program. As a STEM student, you're encouraged to explore your creative side and build projects that solve real-world problems. We empower you with facilities ranging from robotics labs to sculpture studios.
We also promote collaboration, especially with students from our arts programs. By harnessing the power of art and science, there's no telling what you can accomplish.
As a science or math major at Belhaven, you may apply for the Marion Davis Ridgway and Elise Davis Endowed Scholarship. This $1,000 scholarship is awarded once per academic year to a STEM student who is pursuing a pre-professional program in the health sciences.
The scholarship can be received multiple times. You must have a minimum ACT score of 29, be admitted to Belhaven, and complete an application and interview process. March 1 is the application deadline each year.
Engage & Be Recognized for Your Research
As a Belhaven Chemistry student, you have top-notch research opportunities. Our department is built on a solid research foundation, and our students are award-winning and recognized across the country for their efforts. You can travel to local, regional, and national conferences to present to the scientific community, and you can earn impressive accolades. Some of the events we attend include regional American Chemical Society meetings as well as biomedical and undergraduate research conferences.
Contact Us
Office of Admission
Phone:
601-968-5940
Mailing Address:
1500 Peachtree Street, Box 153
Jackson, MS 39202
For campus visit:
Jimmy Hood Welcome Center
855 Riverside Drive
Jackson, MS 39202
Fax: 601-300-2932
Verse of the Year
God is working in you, giving you the desire and the power to do what pleases Him.
Philippians 2:13