Lead Others to Excellence
Help others reach their goals and find your own fulfillment in the process. Learn to unleash innovation, energy, and commitment at Belhaven. We're known for our academic excellence, and we'll teach you how to empower others to be their best selves.
Our faculty take special care to design learning activities that will help you to apply the research of leadership and coaching to a professional career, based on a Christian worldview perspective.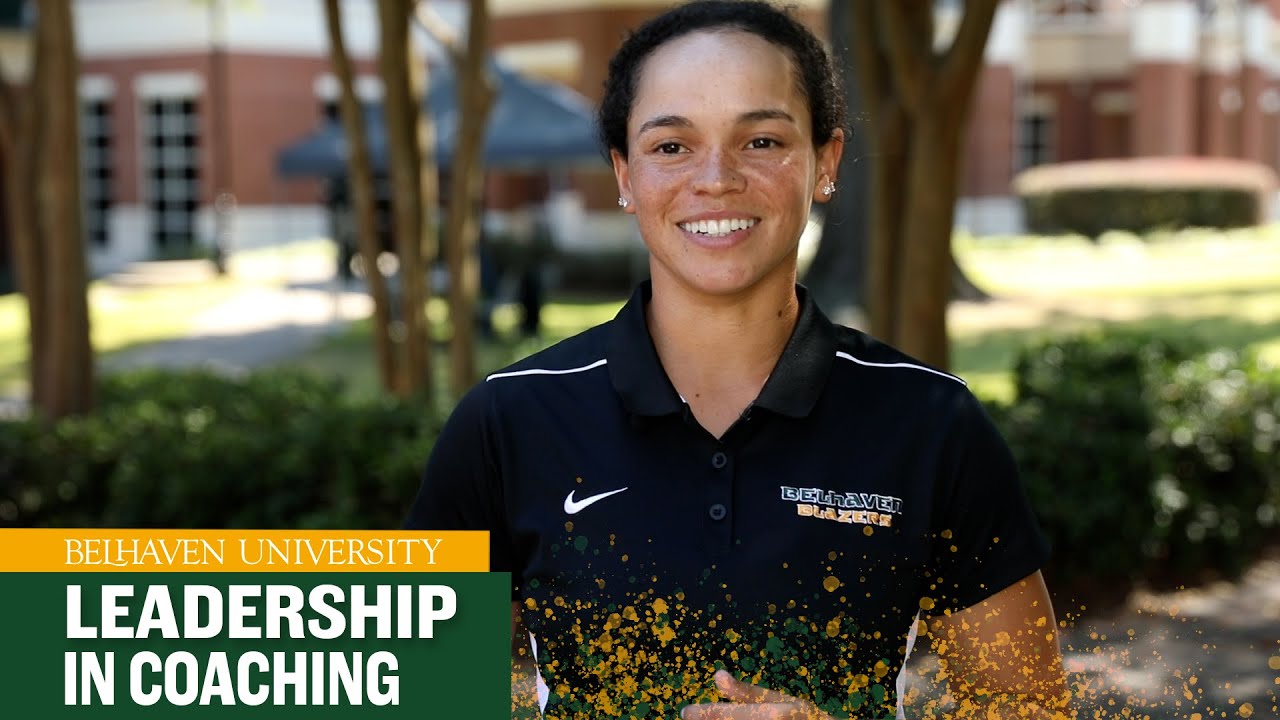 Build a Strong Foundation Alongside Experts
Why You'll Love Leadership & Coaching at Belhaven
Program Flexibility
Your future should inspire you. Choose to double major in Sports Management to strengthen your knowledge of professional sports. Guest lecturers participate in the speaker series from leaders in the industry each semester.
Top Business School
Colleges of Distinction recognizes us as a top Christian business school. The honor is based on faculty and program quality, a commitment to offering you real-world experience, and alumni job placement.
Caring & Expert Faculty
Our faculty members teach from experience and lead with compassion. They'll push you to do your best, and they'll help you achieve great things in and out of the classroom.
Internships
Build your resume with placements at local and national sports teams, centers, and clubs. You could work with the United States Olympic Committee, National Football League, the Mississippi Hall of Fame, the Mississippi Braves Baseball Club, and other high-profile organizations.
College of Distinction
Numerous awards and honors for our innovative approach
Small

Class Sizes

Our student-faculty ratio is 13:1, meaning you receive personalized attention and instruction
IACBE

Accredited

Our business school is accredited by IACBE, proving our commitment to quality
School of Business: Verified Excellence
Belhaven's business school is accredited by the International Accreditation Council for Business Education (IACBE). Why is this important?
Knowing the School of Business is accredited by the IACBE tells you that Belhaven voluntarily holds itself to a set of quality standards and is willing to allow outside business experts come to campus and verify Belhaven is doing what we say we are doing. Belhaven's commitment to the accreditation process benefits you because it ensures you will be provided a quality education.
What Can You Do with a Major in Leadership & Coaching?
Athletic director
Arena manager
Athletic team manager
Fitness center manager
Community center directors
Recreational sports program managers
Sporting event coordinators
Golf/country club management
Sport marketing
Sports information directors
Sport governing bodies (NCAA, NAIA, etc.)
Sport camps
Sports officials
Sports broadcasters, writers, and agents
Gain Knowledge to Support Your Skillset
Managing Coaches and Teams
Business Communication
Organizational Behavior
Measurement & Evaluation Strategies (for aspiring high school coaches)
Classroom Management & Organization (for aspiring high school coaches)
Our Graduates' Successful Careers
High school head/assistant coaches
Collegiate head/assistant coaches
Recreational directors
Operations managers
Recruitment coordinators
Coaching manager
Leadership & Coaching: What You'll Study
B.S. in Leadership & Coaching
Double Major & Get Your 5th Year Free
Fuel your academic passions and expand your career options. Belhaven offers our freshmen a unique deal: double major, and we'll pay the tuition if you need a fifth year in school. Double major in two arts programs, pair a business degree with a STEM major … the possibilities are endless!
Make the Most of Your Major 
Internships are available with companies such as:
Belhaven University's Department of Athletics
Mississippi High School Athletic Association
Mississippi Association of independent Schools
And more!
Join Phi Beta Lambda, a business club that prepares students for business and professional careers.
Connect with future employers and colleagues at our popular networking events:
Meet the Firms
Sports Business Roundtable
Career Bootcamp
Guest Lecture Series
Contact Us
Office of Admission
Phone:
601-968-5940
Mailing Address:
1500 Peachtree Street, Box 153
Jackson, MS 39202
For campus visit:
Jimmy Hood Welcome Center
855 Riverside Drive
Jackson, MS 39202
Fax: 601-300-2932
Verse of the Year
God is working in you, giving you the desire and the power to do what pleases Him.
Philippians 2:13