The comprehensive 40,000-square-foot Student Center provides a central gathering center for the interactions of students, faculty, and staff. Highlights of the facility include a 4,000-square-foot University Bookstore, admission office, Bailey Dining Commons, the Shoe Bird Café, the Dr. James W. Park Computer Center, a prayer room, a 49-seat multi-media theatre and the campus post office.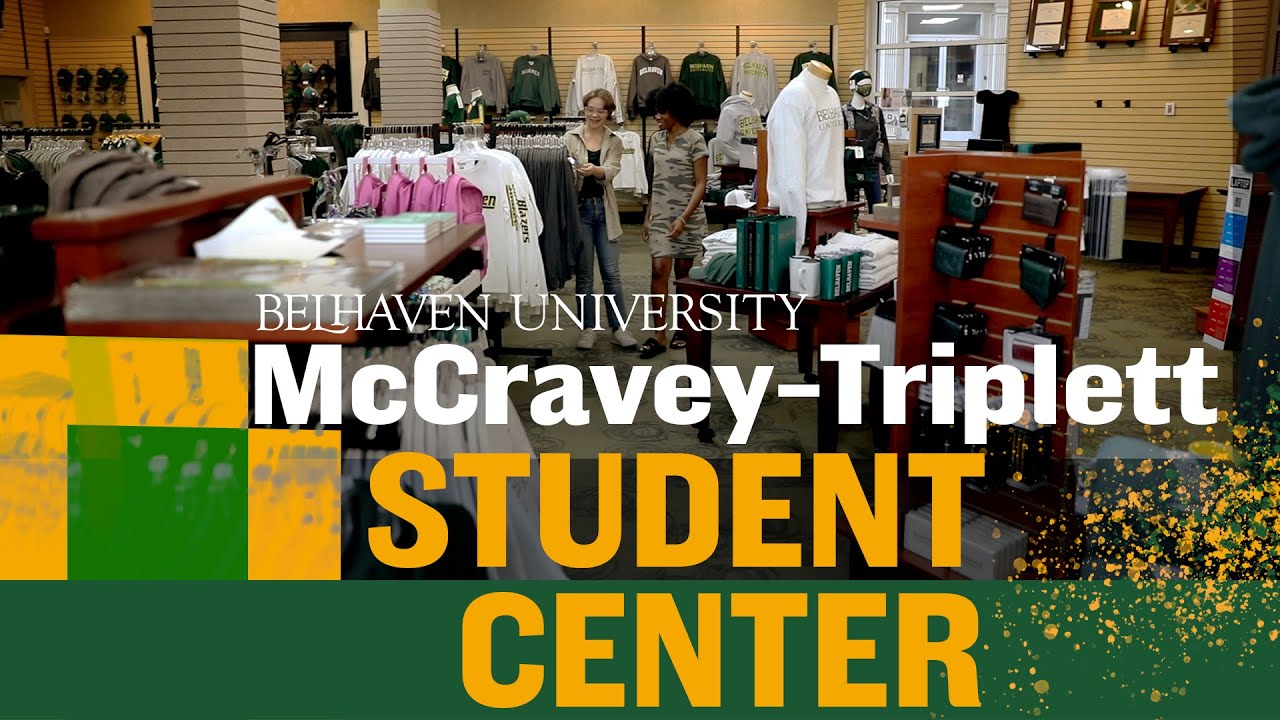 The Belhaven Admission office is located on the second floor of the student center. All of our friendly admission counselors are centrally located on campus and ready to help students discover Belhaven.
This facility was open to students on January 7, 2002 and dedicated on January 30.
The McCravey-Triplett Student Center is named in memory of Mary McCravey Triplett and Cooper East Triplett, both of whom graduated from Belhaven University. Mary McCravey Triplett, the mother of Oliver Triplett III and Donald Triplett, earned her Bachelor of Arts degree in English in 1926. While at Belhaven, she served as president of her senior class and was the business manager of Kinetoscope, the Belhaven University yearbook. After graduating, Mrs. Triplett taught English at the Scott County Agricultural High School in Harperville, Mississippi. She also served as the first female member of Belhaven's board of trustees from 1951 to 1963. She was a member of Forest Presbyterian Church.
Cooper East Triplett, the son of Oliver and Carolyn East Triplett, earned a Bachelor of Science degree in business administration and economics in 1989. While at Belhaven he served in the 83rd Regiment and was a member of the Men's Christian Club. After graduation, Mr. Triplett formed his own corporation, Standard of Mississippi, as a private investor in the stock market and futures trader. He was a member of Forest Presbyterian Church.
Student Center Facilities
Located within the McCravey-Triplett Student Center, the Bailey Dining Commons has been renovated to tie into the new student center. This dining facility first opened in 1976 and underwent a major renovation in 2021.
Named for H. C. Bailey, a prominent Jackson businessman, whose wife, Jeanette, served on the Belhaven Board of Trustees, the building overlooks University Village.
The Weathersby Room, located behind the dining commons, is named for Margaret Weathersby, a 1943 Belhaven graduate who served as administrative assistant to six Belhaven University presidents. This conference room was first dedicated in 1992.
Named for the children's novel by writer and former neighbor Eudora Welty, The Shoe Bird Café offers a wide variety of menu items and a contemporary hangout spot for students.
The University Bookstore, with approximately 4,000 square feet of space, is where students can purchase textbooks, Belhaven apparel and other school supplies.
Named in memory of Joy Lackey of Forest, Mississippi, a 1979 education graduate of Belhaven, this second-floor conference room overlooks the front of campus and is used for various meeting purposes.
The Cooper Room is a meeting space for faculty, staff and student organizations adjacent to the main dining area.
The Prayer Room serves as a quiet place for prayer and meditation. Furnishings have been provided by Tom Maynor, class of 1961, in honor of his wife, Ann Mangum Maynor, also class of 1961. The stained glass window has been provided by an anonymous donor in memory of Henry Thomas Ford, professor of music from 1962 to 1978.
A 50-seat, multi-media theatre with a state-of-the-art sound system is used for class presentations as well as recreational use.
The campus mail service facility provides 956 boxes for use by students living on campus.
Lockers are available on the second floor to be assigned to commuter students to store their personal belongings while they are on campus.
Verse of the Year
God is working in you, giving you the desire and the power to do what pleases Him.
Philippians 2:13