Take a Look Around Our Beautiful Haven!
If you can't make it to Jackson for an in-person visit, don't worry — our online tour gives you a comprehensive look at Belhaven's beautiful campus.
Get an insider's view of our classrooms, residence halls, athletic facilities, and gathering spots. Fly through the Commons via drone. Wander through some of our state-of-the-art buildings.
Go ahead, make yourself at home. We're looking forward to meeting you!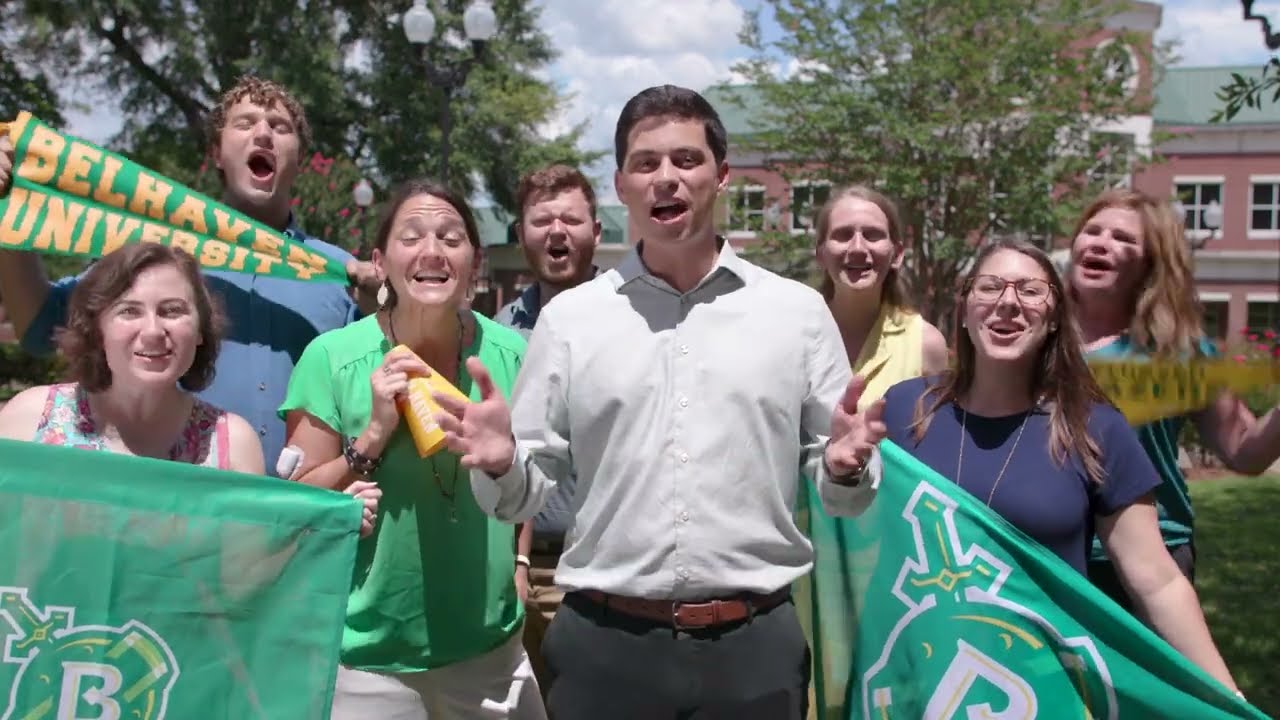 Take a Three-Minute Tour Around Belhaven. 
Finding Your Way Around Campus
Bitsy Irby Visual Arts & Dance Center: This facility houses the visual arts and dance departments and features studio spaces, a performance venue, design labs, and an art gallery.
Caldwell Hall: Caldwell Hall houses female students in double-occupancy rooms.
Stadium Operations and Media Center
Belhaven Bowl Stadium: Located in the heart of the Belhaven University campus, this historic venue has undergone a multi-million transformation, including a custom turf playing surface, chairback seating for 1200 and a state of-the-art Daktronics video board.
Heidelberg Gymnasium: This facility houses more than 20,000 square feet of athletic competition, including Rugg Arena and our Exercise & Fitness Center.
Track & Field Complex: This complex sits on the edge of campus, just east of the Belhaven Bowl Stadium.
Parking Garage
Lakeview Hall: This women's residence hall houses 144 women.
Hughes University Village: For 130 students, this facility provides apartment-style living for both men and women.
Entergy Pavilion: A beautiful setting for outdoor performances and student gatherings, while affording the campus a unique and stunning focal point.
Dr. Billy Kim International Center: This facility highlights the importance of global perspective in higher education and celebrates Belhaven's relationship with South Korea.
Helen White Hall: This residence hall houses 60 women.
Hood Library: The Warren A. Hood Library is Belhaven's hub for community, learning, and research.
Fitzhugh Hall: Fitzhugh Hall is home many classrooms and administrative offices.
Preston Hall: This three-story, neo-classical hall houses many of our administrative teams, including the president, provost, business office, human resources, and financial aid.
McCravey-Triplett Student Center: Inside this facility, you'll find the bookstore, dining commons, mailroom, student development offices, and more.
Cleland Hall: Affectionately called "The Cube," Cleland Hall is home to psychology and sports medicine and exercise science departments.
Irby Complex: The Irby Complex is home to classrooms, laboratories, and faculty offices.
Robertson Hall: Housing 130 residents, Robertson Hall is one of our two residences halls for men. The spacious lobby, connecting with Wells Hall, offers a spacious lounge area, a theater-style television room, and a public restroom.
Wells Hall: Wells Hall is home to 122 men. Wells is connected to Robertson Hall through a spacious lobby with ample gathering space.
Raymond Hall: Home of the Belhaven Blazers Athletic Departments.
Maintenance Facility
Bettye Quinn Center: This building houses Belhaven's Security and Film Production departments.
Wilson Hall: Home of our Blazers Football and our Sports Administration programs.
Jimmy Hood Welcome Center: Home to our traditional and online admission offices.
Center for the Arts: Formerly a church, the music and theatre departments have a home here. In addition to teaching and learning spaces, the former sanctuary now serves as the 800-seat Concert Hall.
Contact Us
Office of Admission
Phone:
601-968-5940
Mailing Address:
1500 Peachtree Street, Box 153
Jackson, MS 39202
For campus visit:
Jimmy Hood Welcome Center
855 Riverside Drive
Jackson, MS 39202
Fax: 601-300-2932
Verse of the Year
God is working in you, giving you the desire and the power to do what pleases Him.
Philippians 2:13